We are very fortunate to have a good sized pantry.  It is located right next to the refrigerator and even has slide our shelves so you can find things in the back.  The problem? It was a mess.  But that is OK – have doing some looking around at different ideas and implementing my own little bit of crazy organizing, it is now quite lovely!
(For more about the crazy organizing system check out How To Organize.)
Pantry – Before Picture
The first step was to clean it out.  I did this shelf by shelf so that I didn't have everything all over my kitchen and then have to run and go so something else.  As you see in the first picture, the top shelf is empty.  I removed everything from the shelf, wiped it down with a soapy dish rag, dried it and then put on my lovely shelf liner.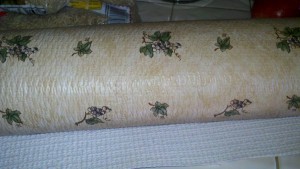 I had to include this picture – because I really like my shelf liner.  It is rubbery on the bottom so it doesn't slide around, there are all sorts of color choices so you can go with any theme you want and it is really easy to clean.  Plus if it every gets really, really bad – you can replace it.
As I went from shelf to shelf, I worked on determining what items needed to go where.  The cereal had to go on the bottom as that was the only place it would fit, but that actually works because I wanted things that the kids can fix for themselves on the lower shelves.
I also determined what items could stay in their original packaging and which I wanted to move to different containers.  Here are some examples of what I ended up with:
Cereal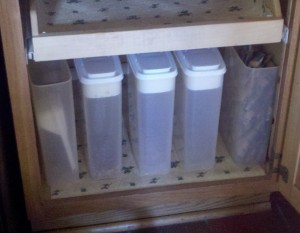 These boxes work great for several different reasons.
Being a "Tupperware" type of material, they are easy to clean and are dishwasher safe.
We already had them from before so there was no money to spend right now.
The design of the boxes (the little pour spout thingy) makes them easy for kids to use without making a huge mess.
Being see-through you can tell when you are almost out of cereal just by glancing in the pantry.
Because of the depth of the pantry, any cereal that doesn't fit into the boxes can go behind them.  The box on the end is missing it's top, so I used this one to hold envelopes of instant grits.
Pasta and Rice
For things that we know how to cook because we cook them all the time, we also do not need the original packaging.  Plus – we found these great containers at Walmart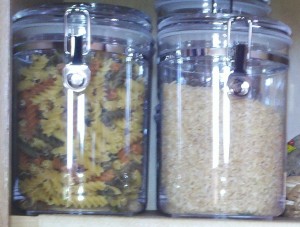 These containers are air tight, so we don't have to worry about food spoiling.  Plus being see-through we can tell when we are running low.  I really liked the look of the containers as well.  These containers came in a set of four, one large, one medium and two small.
I played around with different configurations –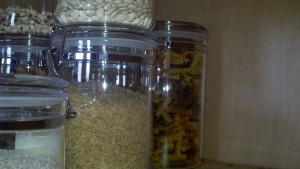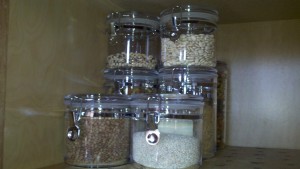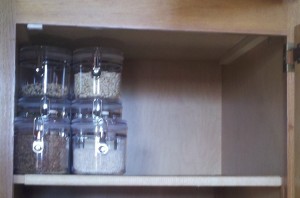 And I am still occasionally playing.  I did go back and purchase one extra large container of the same style for the pasta.  (we use a lot of pasta)  
The other thing I did while going through the pantry was get rid of outdated items.  There weren't too many things as we just moved last year, but there were a couple of things that didn't need to be there.  So the final result . . . .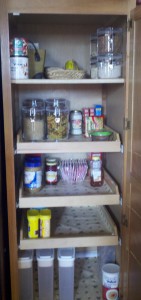 Top shelf  : beans, nuts, dips, and other things that we do not use on a daily basis.
2nd shelf : Pasta and rice, other package lunch / dinner items
3rd shelf : PB & J, snack items (low enough for kids to reach)
4th shelf : drink mixes (low enough for kids to reach)
Bottom shelf : Cereal
So there you have it – I have moved a few things around since I took the pictures, but so far this is working out really well.  And when the hurricane was coming, we knew what we had, what we needed and we had room to put surplus emergency supplies.