To say that we "like" Lego Bricks in this house is a bit of an understatement — We LOVE Lego bricks.  In fact, we love them enough that I know you are supposed to say Lego bricks rather than Legos – I don't remember where I read that – but it has to do with the name of the bricks.
Anyway – a brief lesson on Lego.  According to Wikipedia Lego began in the workshop of a carpenter named Ole Kirk Christiansen in 1932 who made wooden toys.  The name Lego comes from the Danish phrase "leg godt" which translates to "play well".  Lego began producing plastic toys in 1947 and then in 1949 an early version of the Lego bricks we have come to know and love was created.  If you want to know more about Lego – feel free to check them out on Wikipedia, brickipedia, or Lego itself.
If you are wondering why you are getting a history lesson on Lego it's because I wanted to include a bit of history before I told you this really cool thing that we did.  🙂  This way you have your "learning" out of the way and now you can play!
The Lego Pick a Brick Wall!  If you have ever been to a Lego Store you have most likely noticed their Pick a Brick Wall.  It is usually a large wall that is covered in containers holding various Lego bricks.  Some stores have a huge wall, while others are a bit smaller, but large or small it is quite an impressive sight.
The real point of this post though is to help you make the most of the pick a brick wall.
Step #1 – Spend money at the Lego store when they are doing a "Spend money and get this box that you can fill up from the Pick a Brick wall" promotion.  So far I have only noticed these promotions being offered around Christmas time, but that is because I try to limit going to the Lego store.  I know, I know, if I LOVE Lego, why do I avoid going there?  Simple – it's costs too much for me to go there too often.  🙂  Generally the promotion is something like – Spend $75 and get this box that you can come back and fill up after Christmas – the sad thing being that I have been known to come home with more than one of these boxes.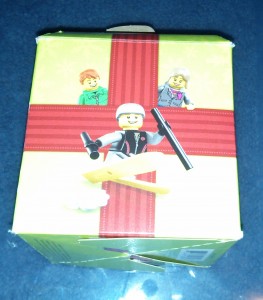 Step #2 – After you get the "free" box – look at it.  Does it have a date on it?  Does the date state when you can come back to fill your little box?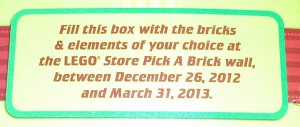 Step #3 – Come back during the time you are supposed to come back so you don't arrive at the Lego store box in hand only to have them tell you – Oh sorry, that ended last week.  (No – this hasn't actually happened to me, I may forget to mail the bills, or call the oil company, but I don't forget when to redeem my Pick a Brick – Lego box.)
Step #4 – Plan to go when you are able to spend some time (figure an hour or so depending on how crazy you are) at the Lego store.  Also – don't be afraid to be a little crazy.
Step #5 – Filling the box –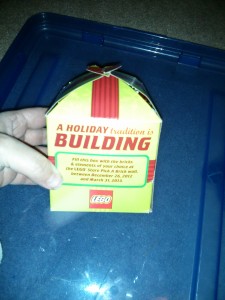 Determine the size of your box.  You don't need a ruler for this – you just need to know how big your box is in Lego Size.  For example, the box that we had this year was 11 x 11 Studs.  How did we discover this?  Well – that my friend, is step 2.

Start with a base of bricks – occasionally check this base to make sure it fits snugly into your box.  You will want your base to be slightly smaller than the box in both width and length – for height; you just need to make sure it is stable enough for you to  stuff it down into the box without it breaking.  (You will also want to be careful about ripping the side of the box – Lego brick corners can be sharp.)
After you have built and inserted your base, continue to add bricks and other Lego elements from the Pick a Brick Wall by building onto your base until you have reached the top of your box.
If you find yourself with a few empty spaces due to oddly shaped Lego elements (like fences, chairs or steering wheels, use the dead space to drop in studs, crystals, or any other tiny pieces.
Don't forget to build for the top of your box – our box had a peak at the top – therefore we could continue to build after reaching the upper edge by making a pyramid shape.
That's pretty much it – but you didn't think I was just going to tell you about it.  Wanna see my crazy side?
Prepare yourself
Are you ready?
Are you sure?
Don't say I didn't warn you!
And as they say on all of the home design shows that I watch with my Mom when we visit her – here is The Grand Reveal!
So – what actually ended up in my little box?  If you really want to know, I can tell you – (I counted – hee hee hee)
Lego Box Pick a Brick Contents: (the first number indicates quantity, the number in () indicates the cost per piece and the last number is the total for that element)
134 Red Jewels (.15) – 20.10

16 Mini Antenna grey/black (.20) – 3.20

4 Steering Wheels (.30) – 1.20

3 Red flowers (4pc) (.15) – 0.45

18 White flowers (4pc) (.15) – 2.70

14 Tan Palisade Brick (.10) – 1.40

13 Clear 1×2 plates (.15) – 1.95
10 White 1×2 radiator grille (.10) – 1.00

21 Light green flat tile – (.10) – 2.10

5 Brown seats (.15) – 0.75

1 Orange 2×2 plate (.15) – .15

9 Orange studs (.10) – .90

10 Light green studs (.10) – 1.00

3 Clear light blue 1×1 plates (.10) – 0.30

6 Clear green 1×1 plates (.10) – 0.60

32 Clear yellow studs (.10) – 3.20

8 white fences (.20) – 1.60

22 Blue 1×4 plates (.10) – 2.20

14 Red 1×4 plates (.10) – 1.40

6 Red 2×4 plates (.15) – 0.90

2 Red 2×2 round bricks (.15) – 0.30

3 Black 1×2 bricks (.15) – 0.45

4 Dark grey corner pieces (.30) – 1.20

10 Blue 2×4 bricks (.30) – 3.00

24 Light Blue 2×4 bricks (.30) – 7.20

6 Red 2×4 bricks (.30) – 1.80

6 Orange 2×2 bricks (.20) – 1.20

5 Grey 2×6 bricks (.30) – 1.50

10 Army green 2×4 bricks (.30) – 3.00

3 Tan 2×4 bricks (.30) – 0.90

15 Brown 2×4 bricks (.30) – 4.50

11 Light green 1×3 bricks (.20) – 2.20

11 Yellow 1×4 bricks (.20) – 2.20

4 Yellow 2×4 bricks (.30) – 1.20

7 White 2×4 bricks (.30) – 2.10
For a grand total of 470 Lego bricks and elements, worth $79.85!!!
PLUS – it was fun to do!  That's it for now – feel free to stop by for a chat anytime.  If I am not here I am building an 11×11 base block to fit into my box (or homeschooling, or playing with the kids, or cleaning the house or doing laundry – well you get the idea).  Also – I have a drawing going on for a Free Convention Registration for the 30th Annual Virginia Homeschool Convention – check out my Bounty of Blessings post for more details.
Have you ever built your Lego bricks so they fit in the box?  What fun crazy (family friendly) things have you done?  See you soon and until then – leg godt!