UCS
The Used Curriculum Sale
How to sell books to make money to buy more books!
I recall seeing a saying the other day (yes, I know, seeing a saying sounds weird – I should have heard a saying, but it was posted online so I saw it rather than heard it.)  Anyway – the saying was this:
"There is no such thing as too many books, just too few bookcases."
I am not sure who said this, so I am not sure who to attribute it to.  I do, however, wholeheartedly agree!  There is also such a thing as not enough space to put all of the bookcases.  So when you get to the point that there are books on all of your bookcases, books stacked in baskets in your bathrooms, books piled high on night stands, and books threatening to fall on your youngest child whenever they walk down the hall – then it is time to think about parting with some books.  The great part about this is the Used Curriculum Sale (or UCS) – you know how you feel when you see a new book and you just must have it – someone will look at your books like that and they will pay you money for them.  (Which you can then use to buy more books and a helmet for the smallest child so they don't get hurt when the books land on their head.)
I am going to walk you through the steps for the HEAV UCS.  Why?  Because I am going to HEAV and I am taking other peoples books with me and this is not only good for you, but will also teach them how to enter their books.  🙂  See – we are all learning together – isn't that nice.
Here we go:
Step 1 – Creating an Account and Logging In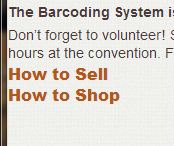 You first must create an account – Even if you created an account last year, you need to create an account for this year.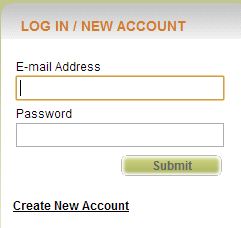 If you have not created your new account, now is the time to do so.  If you have already created your new account, then you can go ahead and login.
When you create your new account, you will be shown the terms of service.  The terms of service layout the rules for the sale (things that are considered Not Appropriate for Sale, Minimum prices, where to drop off items, payment, etc.)  Be sure to read this before clicking on "I Agree" or "I Don't Agree" at the bottom of the window.
After you create your new account, you will need to wait for an activation email – this is usually a pretty quick thing.  If you try to login before your account it active, you will get a message like this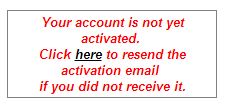 and your computer will melt into a sad little heap of plastic, metal and smoke.  (Just kidding – well, about part of it anyway.)
After activating your account, you can login – Note: as you do this, the list of items that are not accepted is shown again.  While for some it may see like over kill, this really is an important thing to note.  The HEAV UCS deals with a HUGE number of items in a short period of time.  In order for that to work smoothly people do need to follow the rules.  Be sure to look over the list and make sure you are clear on what things you can and can't sell (most of these are obvious things – such as R rated movies and outdated encyclopedias however HEAV also requests no college textbooks so just take a quick look and you will be all set.)
The first time you login you will see this message, after you have entered books, this is where your book list will appear.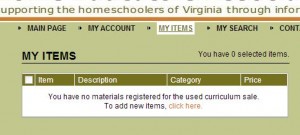 Select the "click here" link in the main area, or the "Add new item" in the right hand menu box to begin entering items.
Step 2 – Entering books and items to sell
Selecting "click here" or "Add a new item" opens a new message box within the current window.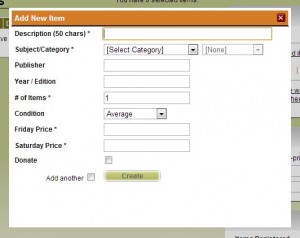 Note: Not all of the categories are required, however be sure to fill out the ones that are in order to avoid an error.
Add New Item Message Box
Description (*Required): Here you add (as briefly as possible) the description of the book or item being sold, further down you will be able to indicate grade and category, so the best thing here is the title and subtitle is available.  Some people will indicate if the book has been used or not.  

Subject / Category (*Required): These are both drop down selection boxes - the second box will be active or not depending on your choice of category.  For example, if you select 1st grade, the subject box will become active and you can select Language, Math, Social Studies or Science.
Publisher: Here you can list the book publisher if desired - I generally only do this if it is a popular publisher such as Saxon, BJU, Scholastic, etc.

Year/Edition: This is optional

# of Items (*Required): If you are selling items together (such as several books of a series, or a textbook and workbook, indicate the total number here.  

Condition: This drop down selection allows you to choose a condition for you items.  Bear in mind that people will be looking at and flipping through your items, so if the outside looks new, but the inside is written all over your condition marker should reflect that.

Friday Price (*Required): The UCS is open on Friday and Saturday.  That is why you have a Friday Price and Saturday Price option.  People will spend a little more on Friday to get something they really need or want, on Saturday they will also spend money on things they may like or want to try.  A good rule of thumb is to choose your Friday price and then knock down your Saturday price by 1/3 to 1/2.

Saturday Price (*Required): See Friday Price

Donate: This check box indicates if you want to donate your books or if you want to come and collect the ones that didn't sell after the sale is over.  If you choose to donate your books, it is wise to lower the Saturday price by at least 1/2 if not more; after all, it is better to get something for them rather than nothing at all.

Add another: This little check box is a wonderful help.  If you are entering in more than one book at a sitting, then keep this box checked and after you hit the "Create" button, the box will clear and be ready for the next item.
Printing your Labels
Once all of your items have been entered and you have checked over your list to make sure you don't have any corrections to make you will need to print your labels.  Clicking on the Print Labels link in the right-hand menu brings up a new tab (or possibly a new window, it may depend on your browser setup.)
This new window gives you options and instructions.  You can choose to print all of your labels, only those that haven't yet been printed, certain labels, etc.
You will get TWO copies of each Label – this is important.  The reason you get two copies is so that you can place one copy on the outside of the book and one label on the inside (in case the outside label falls off).  It is amazing how many books end up on the "No Label Table" at the UCS – if your label falls off and you don't have one secured on the inside, your book won't be able to be sold.
HEAV asks that you use ONLY ONE strip of tape ACROSS the MIDDLE of the label.  The way I figure it, HEAV has been doing this convention for 30 years, if they recommend that I only put one strip of tape and I have an label on the inside and outside – I'm going with their recommendations.
So that was my brief "How To" on the UCS Barcoding system.  If you have other questions or if you want more details – Visit the "How to Sell" page on the HEAV website.
Thanks for taking the time to read through my little tutorial.  If you would like me to bring your books to convention, I only charge a modest fee.  🙂  Send me a note – we'll chat.
Otherwise – See you in June!!  And don't forget HEAV's Bounty Of Blessings – 30 Days of Giveaways is going on through the end of April – don't miss out on the last few days of goodies!!
If you have any questions, feel free to ask.