Bear in mind that you have to read the title with the Sunday Night Football guy's voice in your head.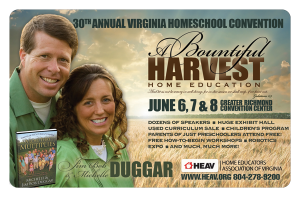 So are you ready?  Let's check the checklist!  (a note – this checklist was completed over several days as I would think of things I would enter them – so at some point the checklist becomes part check list, part tip list – so – take what works for you and ignore the rest!)
Praying – Whether or not you are a praying person, convention is huge.  When I get to convention and see all of the STUFF I tend to want to get first and pray later.  So this is a reminder for both of us – Pray first – God please don't let me spend all of our food budget on homeschool stuff.
Make your lists –

curriculum for each child
resources for mom
gift lists for birthdays / Christmas / etc (there are all sorts of vendors that have wonderful things, many of these vendors are homeschool families – what a great way to support other homeschoolers AND be able to say you started your Christmas shopping in June!  Be sure to watch for my post featuring Virginia Soaps and Scents – it's where I do a lot of my birthday and Christmas shopping!)
UCS lists – curriculum prices for things you know you want – make sure you know the price BEFORE buying it in the UCS only to discover that it was the same price new
UCS TIP – Did you know that you can search for things on the UCS bar coding website?  You have to have a username and password, but you can create a free login so it's not a big deal.  How is this helpful?  Well – if you are looking for a certain book – Say Apologia Zoology – where would you look?  Would you look in 5th grade science, or 6th grade science?  After entering Zoology into the search feature – here are the results: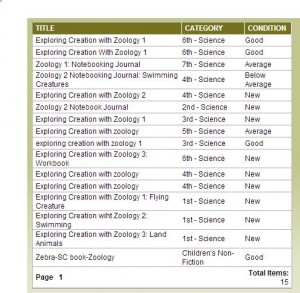 As you can see there are 15 items for Zoology at the time I did the search – they are in grades from 1st to 7th science AND there is one in Non-fiction.  How does this help?  Well – the categories listed here are the same as the categories that will be on the signs at the UCS – so if you know where the books are – you know where to start looking.  Ok – back to the checklist.
Printouts – At the very least it is great to print out the following:

Used Curriculum Schedule (good if you are selling books or buying books)
Exhibit Hall Map (be sure to highlight the booths you most want to see and go to them first!)
All of your lists that you made earlier

Arrange your 3 – Ring Binder —

Punch holes in your lists – put them in your binder
Add blank paper for taking notes
Add a 3 hole punched pencil holder for pencils, pens, etc.
Add tabs if you want to be super organized

Make and Print your Return Address Labels
Find, borrow, build or purchase something with which to haul your books, paper and various other things (including husbands and children when necessary) around.  This can be a rolley cart (basically a milk crate with wheels) that you can find at any office supply store, a suitcase with wheels, a stroller or if you think you will be doing a LOT of shopping at the UCS – a forklift.  Either way – you will get tired of carrying things – so make sure you have somewhere to put things down.
Have a plan of workshops that you want to hear.
Be prepared to toss your plan out the window when you hear a really awesome speaker and decide that you want to go to the rest of his or her sessions.

Take a deep breath and know this – you are awesome!  You are doing a wonderful thing for your kids.  It WILL be OK!

Plan to enjoy yourself – either with the whole family, just hubby, just the kids or on your own, plan to smile at other people, to be open to that random conversation in the elevator or while waiting in line – and have fun!
Finally – VOLUNTEER!!!  This is not only a great way to give back, but I have always found that I get so much more out of the experience when I volunteer.  The people that I have met while volunteering are amazing!  And if that wasn't enough . . . When you volunteer for ONLY 2 HOURS – You get into the UCS @ 9am!  That is an hour earlier than even the early tickets!!  
So go sign up now – from what I hear they really need people in the children's program and Friday Registration – http://heav.org/convention/volunteering-at-the-convention/
I can't wait to see you soon – I'll be the one driving the forklift while talking on the phone explaining to my husband why we are going to be eating Ramen noodles for the next few weeks.  🙂