So – Bug doesn't like to sleep in his room.  Why – because he is 4 and it is upstairs and not close enough to Mommy, plus he currently shares with his brother who is 13 and doesn't always appreciate the toys all over the floor.
While we do have guests we have decided to change out guest room into Bug's room and then when guests come, they can sleep in his room.  This makes more sense as Bug is here all of the time and the guests are here occasionally.
So here are a few shots of the before and during – once I get to the after (whenever that may be) I will post those as well.  Actually – I didn't take before before pictures – so I guess I am really posting during and a little later during pictures.  But you get the idea.  🙂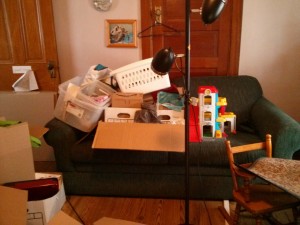 Yes, the sofa bed is blocking a door – why is that ok?  Because it is a door to a closet that was in the original part of the house and the door is about 2 foot off of the floor.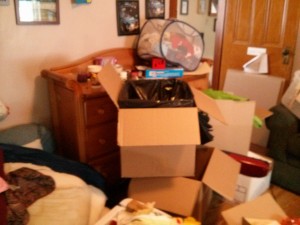 The box on top is trash, the dresser is Bug's dresser and is going to be moved soon.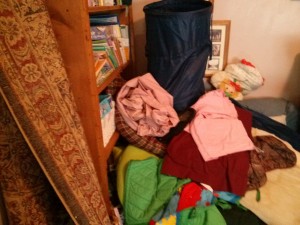 Princess and Bug were playing fort in the guest room at one point – here are all of the blankets and pillows and such that they were using.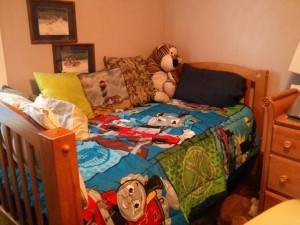 Yeah!  The bed has been moved and even made!  He is so excited to sleep in his new room!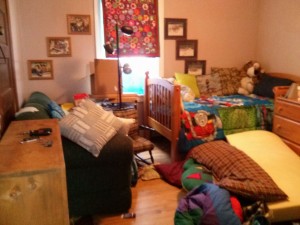 From the doorway – the shelf and sofa are staying on the left – the puzzle shelf between the sofa and bed is going . . . somewhere.  The dresser is going to be moved farther back to the right so that it is up against the wall.  The pile of pillows and foam in the middle is currently a hiding place – both Princess and Bug were in there when I took the pictures!
How often to you rearrange?  Do you rearrange for fun, for a change or for function?
mcrooker – Homeschooler On The Edge