Three guesses as to where I just went!  That's right, it's The Lititz Chocolate Walk.  It's a walk for charity AND you get chocolate. This was the 12th year for the Lititz Chocolate Walk, held in the beautiful town of Lititz, PA, and the proceeds from the Chocolate Walk are distributed to local organizations that assist children. The first thing was at the train station to pick up tickets and a button.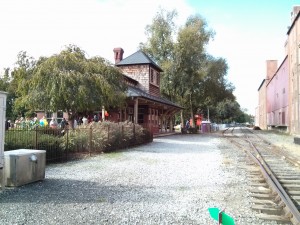 Once we (my friend Chris was with me) had our tickets and button, we headed to our first stop.
Stop #1 — Wilbur Chocolate Company
Treat #1 — Wilbur Buds and a raspberry chocolate creation (Note: many places had several options, I am putting in the ones that I chose as there were too many to remember for all of the places).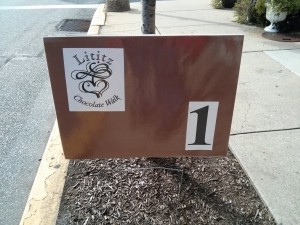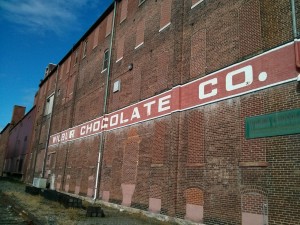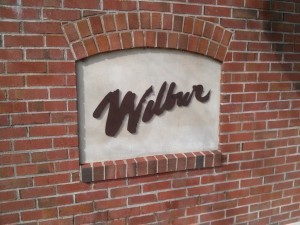 Wilbur Chocolate Company!  If you have never heard of the Wilbur Chocolate company, that's ok, but did you know that Wilbur made the Wilbur Bud, before Hershey made the Hershey Kiss?  At our first stop we got a cup with a couple of Wilbur Buds and a piece of a chocolate raspberry bar.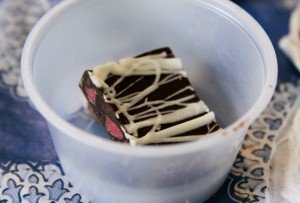 Quite tasty!  Then we were able to tour the Wilbur Chocolate Store and Museum.
While there we also met Kathy Blankenbiller, who regardless of saying she is not a professional chocolatier, created an absolutely gorgeous, not to mention edible, scene containing 13 nursery rhymes.  The pictures don't do it justice, but here are a few – from what I hear the scene will be part of the Christmas display at Wilbur Chocolate.  If you have a chance to see it, I definitely recommend it.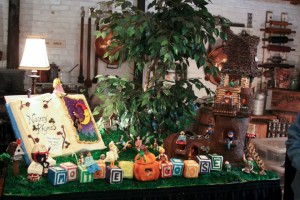 Stop #2 — Pork and Wally's
Treat #2 — Chili (guess what the secret ingredient is)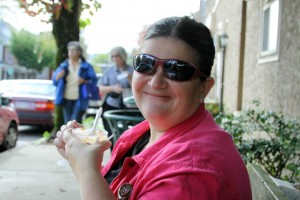 Who would have guessed chocolate is good in chili?
Stop #5 — Greco's Italian Ices and Homemade Ice Cream
Treat #5 — A sample of Italian Ice or Homemade Ice Cream – the options range from Chocolate Italian Ice, chocolate marshmallow ice cream, chocolate peanut butter ice cream and their newest ice cream flavor "Taste of Lititz".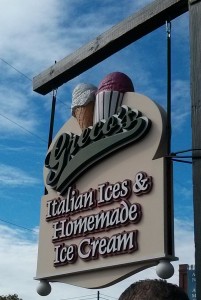 Stop #6 — Freeze and Frizz
Treat #6 — a mini-Lititz Chocolate Sundae, featuring Sturgis pretzels and a Wilbur Bud, drizzled with amazing hot fudge and topped with whipped cream.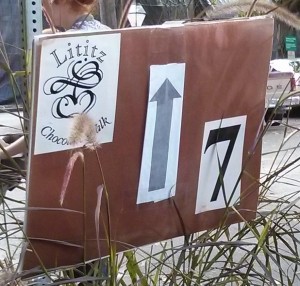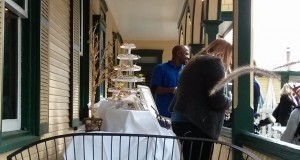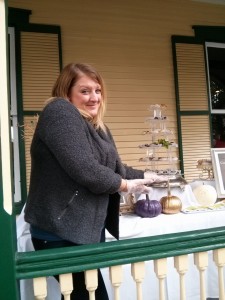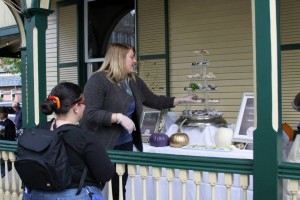 At this point, my friend Chris and I took a short break and looked at the map and decided to cross Main Street and head up past Juniper Lane to reach #31 – from here we worked our way backwards.
Stop #31 — Dosie Dough
Treat #31 — Scrumptious triple chocolate brownie – a bar with a brownie bottom, a chocolate chip center and chocolate fudge topping.
While at Olio's I was able to try quite a few olive oils and basalmics, they have a wonderful "try before you buy" setup which was awesome.  If I hadn't known that I had a lot more walking to do I would have purchased several different kinds.  As it is, I have plans to go back or order online – go online and you too can get Bittersweet Chocolate Orange Balsamic.
Treat #29 — Chocolate Stout Truffles (a chocolate walk first!)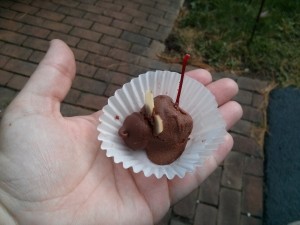 Stop #27 — Main Street Peddler
Treat #27 — A dark chocolate treat from Lily's Sweets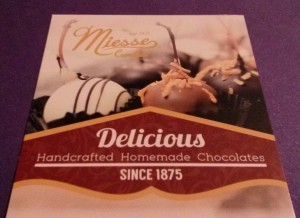 Stop #25 — Cafe Chocolate
Treat #25 — Dark Chocolate brownie bite featuring dark chocolate chunks, drizzled in dark chocolate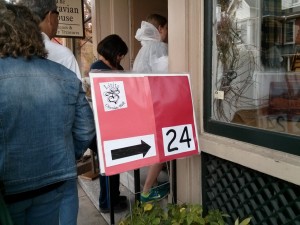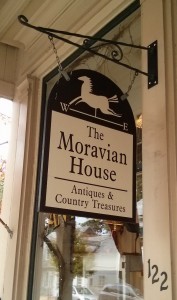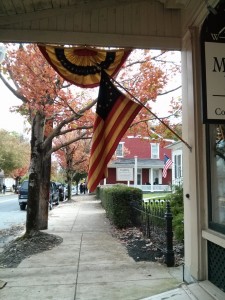 One thing was a bit confusing about the Moravian House Antiques though.  While they claim to be pet friendly – there was a sign restricting one type of animal . . .
Of course, I am kidding about that.  I think it is nice and saw signs at several of the local businesses in Lititz that allow animals.
Stop #23 — Lititz Moravian Church Fellowship Hall
Treat #23 — An amazing demonstration by Chef Frederic Loraschi who was creating a Chocolate Show Piece
Stop #22 — Linden Hall School for Girls
Treat #22 — Cupcake from Lancaster Cupcake – Lancaster Cupcake was a finalist on "Cupcake Wars" and has the only Cupcake Truck in town making stops around Lancaster County.  How cool is that?
Stop #21 — Pots by de Perrot Studio and Gallery
Treat #21 — Stroopies from Lancaster County Stroopies — what is a Stroopie?  Chris and I were wondering as well.  Well, let me tell you, they are good.  Stroopies are a Dutch tradition that originated in the Netherlands, but are now made locally with all natural ingredients.  Stroopies are cinnamon wafers with a chewy homemade caramel on the inside.  Made to be a companion to a favorite hot beverage as you can set your Stroopie on top of your cup to help keep your beverage warm and to heat up the caramel in the Stroopie.
Stop #20 — Julius Sturgis Pretzel Bakery
Treat #20 — Tom Sturgis Little Ones Pretzels layered in Peanut butter or vanilla caramel and dipped in Wilbur milk or dark chocolate
Stop #19 — Whiff Roasters & Lititz Coffee Company
Treat #19 — Chocolate Coffee and a piece of Mocha Java Crunch Bar — While I don't personally like coffee, Chris said it was really good and even though I don't like coffee I did enjoy the Mocha Java Crunch Bar.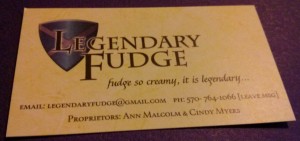 Morton Fine Furniture has some beautiful pieces.  I would love to go back sometime and spend some time looking at all of the fine woodwork.  As for Achenbach's Long Johns – quite yummy.
Stop #13 — EcoLoco
Treat #13 — Chocolate from Divine Chocolate
Stop #11 originally was The Curiosity Shop, but was moved to the Teddy Bear Emporium.  The Teddy Bear Emporium has way more than just Teddy Bears, it was hard to focus on the goal of the tour — the Chocolate Chip cookie from Sandy's!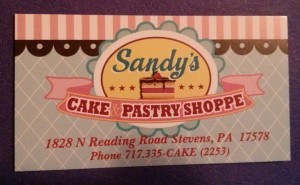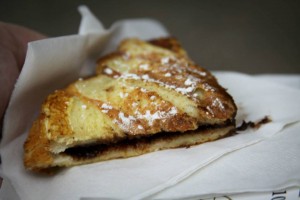 And with that last stop, we reached the end of the 2013 Lititz Chocolate Walk.  I am pleased to say that we reached ever stop and that we walked over 3 miles in all and collected all sorts of chocolate goodies to eat along the way, or to bring home and share and saw all sorts of great shops.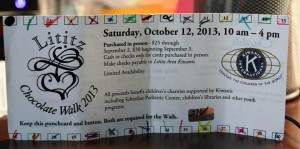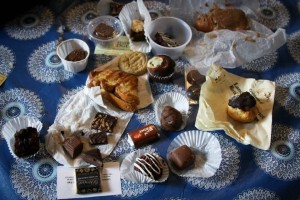 So – who wants to come next year?  Start making plans now!  What kinds of fun ways can you think of to raise money for charity?
Mark your calendar for the 13th Annual Chocolate Walk on October 11, 2014!!!