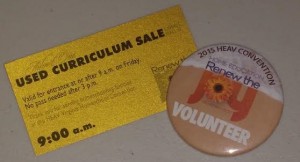 Do you want to get into the HEAV UCS early?  Well then, you need a golden ticket! How do you get one?
VOLUNTEER!
Do you know what the best part of convention is? That's right – the Silent Auction – Oh, wait, that's not what I was supposed to say.  The best part is volunteering!
How is that the best thing about convention?
Because it's all about you (and me and everyone else that comes to the convention).  We are the reason there is a convention – we are HOMESCHOOLERS! Say it loud, say it proud!  We don't just think outside of the box, we take a field trip to find out how the box was made, measure it to find the volume so we know what can fit inside of it and then we use that box and a few of it's friends, add a garden hose and make a water park in the backyard, complete with tunnels!
You think you can't volunteer because you had a bad knee, hip, ankle, back or crooked pinky toe? That's not a problem – we will find you a place.  If you need to sit, we can find you a sitting job (try registration), if you need to stand HEAV has that covered too (UCS, Hospitality, Silent Auction), love to talk (HEAV tables).
Ready to sign up – Great! Convention Volunteer Application.
Here is a bit more about the jobs (with my comments about the benefits).
USED CURRICULUM SALE: 
Volunteering for the UCS allows you to see lots of the cool stuff before it even goes on sale, plus if you help with setup, you can eat chocolate for dinner and not have to exercise after.
REGISTRATION: 
Volunteering at Registration means that you will be one of the first faces people see when they come to the Convention. You get to make new friend and see adorable babies! Plus you are right in the heart of the action in the lobby!
SILENT AUCTION:
Volunteering at the Silent Auction means that you can keep your eye on those items that you really want (plus you can work with me) and I give out chocolate to my volunteers!
HOSPITALITY ROOM: 
Volunteering for the Hospitality Suite means that you get to see the vendors and speakers in a more relaxed setting and that you get to give back to those who do so much for others.
HEAV TABLES: 
Volunteering at the HEAV tables with Sales or Counseling means that you can be an encouragement to new and veteran homeschoolers alike.

Here is a great opportunity to share your enthusiasm for homeschooling with someone who is just thinking about it or who is confused about their rights. Experienced homeschoolers only. Yet another great place for dads to serve to give the "principal's" perspective on the homeschooling lifestyle.
A few more locations that you can serve include as a workshop hostess, setup or tear down and graduation.
Volunteering as a Workshop Host means that you have a guaranteed spot in the workshop, plus you get to meet the speaker before hand to ask if they need anything.
Volunteering for set-up or tear down means that you get to be in the thick of the action AND that you don't have to exercise at all for the rest of the week!
Volunteering at graduation means that you get to help with parents and kids who "made it" – think of all of the collective knowledge in that room.
Volunteering in the Exhibit Hall means that you get to booth sit – which means that you get to hang out at any one of so many cool booths while the vendor takes a quick break.
Of the items listed there are three that I haven't yet done – How about you? Where do you want to volunteer?
mcrooker – Homeschooler on the Edge