It was a dark and stormy night.  The m&m's were sitting quietly on the counter in their bag, never suspecting what was about to happen.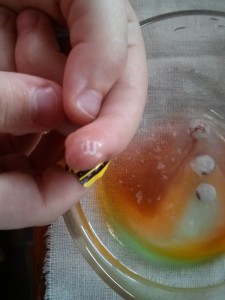 Suddenly, out of nowhere a mom and three children appeared.  They were homeschoolers, the m&m's were doomed.  The Mom savagely ripped open the bag of m&m's and shouted, "Watch this kids!".  Oh, the horror, having been made from chocolate, covered with a candy shell and gently stamped with a lowercase m (made from sugar), the poor m&m's never knew what was coming . . .
Want to know more?  Want to know how to take the m off of an m&m?  The preceding story is true (well, mostly — ok, I admit it, it was daytime, but the rest of it is true!).
Head on over to the HEAV blog for all of the assorted details . . . look for the post titled or just click on this link – – – M&M's Minus the m