This summer I went to several different camps with the kids.
Bug and I went to Cub Scout Day Camp. Bug has just become a Tiger Cub in Boy Scouts of America and his little uniform is so stinking cute! Day Camp was great in that we went each day for a week, coming home in the evenings to sleep, and then on the last night we took advantage of Scout Night at the Reading Philles. Scout night was lots of fun, we had a chicken dinner, watched the ballgame, then got our tent and slept out on the field overnight.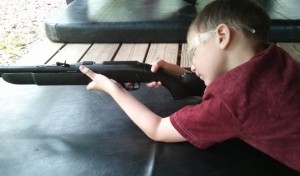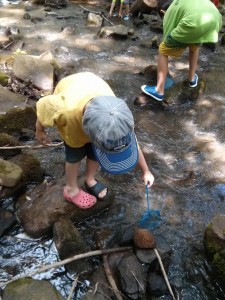 The reason that Bug is wearing a pink shoe is because we had to leave the house at 6 something in the morning to get to camp on time and that morning I could not find his other croc.
Then SixHands headed off to Boy Scout Camp for the week. While I am sure he can manage on his own for the week, we have a small troop so different parents take turns so that no one has to take a whole week away from home.  I was there from Wednesday evening until we headed home on Saturday.  The boys did great, as usual, and camp was nice. It actually got a little chilly in the evenings, and unfortunately as it had been warm last year I didn't bring a big enough blanket. I had Bug's sleeping bag planning on using that to lay on, and that one is kinda small.  I did have two extra blankets, but they were just throws that weren't really big. Anyway – all of that to say – my boy is awesome. I had mentioned that it was chilly at night and the last night when I went to go to bed I found his sleeping bag in my tent. When I asked him about it the next morning, he said that he knew I said I had been cold so he left it for me so I could be warmer. I asked if he was cold, and he said 'yes, but that's ok'. Isn't he a great young man!
Polar Bear Swim – This is a fun event (for those watching) where we get the boys up and to the pool by 6:30 am so they can jump in, climb out, jump in, climb out, etc all based on what the lifeguard has them do.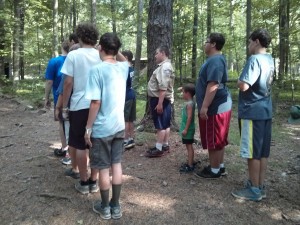 Next was Twilight Camp – let me say up front this camp was called Twilight Camp because it was in the evenings, at Twilight. Anyway, this was a camp for Girl Scouts and the theme was space exploration. We had a great time, I helped another leader (and friend of mine) with the games while Princess and her friend ran around and did all sorts of activities. Twilight camp is only in the evenings for a few hours, but they really did manage to do all kinds of stuff including art, science, games, launching rockets, and water balloon fights!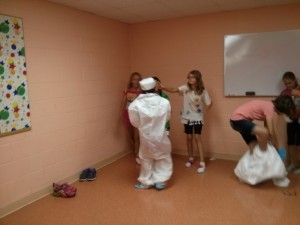 Our final camping experience was Bug, Princess and I along with some friends. Here is how this one came about. One friend's daughter decided that she wanted to have a "camping" birthday party, but this mom needed another mom to be there as a second adult. So the second mom invited Princess and I to go along and Bug decided that if we were going he was too. Anyway, long story short here we are in the woods, it is myself, Princess, Bug, my friend, her two daughters plus one friend, the original mom, her daughter and 7-9 birthday party goes.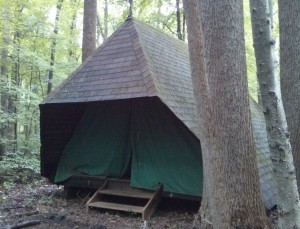 I will be the first one to tell you that I am not a girly girl. I don't wear makeup, don't really care what my clothes look like and I rarely wear dresses. Princess on the other hand, loves to dress up, changes clothes multiple times a day and has, on more than one occasion, came in with me when I was going to get dressed to "help" me pick out what would look nice. Princess also has a pet cockroach, likes to climb trees and has had more ER/urgent care visits than either of her brothers.
I tell you all of this so that you understand that I am not generally a major stickler for gender roles. I think moms can cut grass and fix things and dads can cook and change diapers. Of course I also think that Six Hands and my husband should have to take the trash out, but that isn't as much of a man thing as it is a – it smells and I really don't want to – thing.
However, going overnight camping with girls is a different experience than camping with either SixHands or Bug. First off, upon arrival we swept out all of the platform tents. This wasn't to unusual as the tents had been sitting for a while. But then after finding a spider and a mouse nest in one of the tents (and cleaning it out) two of the girls decided that they were not going to sleep in that tent. We offered to sweep another tent for them, but the girls decided that they would rather sleep in the van. Later that evening, Princess's friend decided that the tent they were sleeping in was too dark. Princess was willing to try, but after they talked she and her friend decided they were going to sleep in the van as well. So as the van was parked a little ways away from the campsite, my friend and I (and bug) had to go sleep in the van as well, so we didn't leave the girls all on their own. Personally I would have preferred sleeping in the tent rather than the front seat of the van, but all in all it worked out ok and it was definitely a story to tell. Plus I was plenty warm this time as Bug wanted to snuggle part of the time.
Needless to say we had lots of fun camping this summer – I quite enjoyed each and every time. Do you go camping? Do you go with a group, with family or on your own?