As part of the Show Me series that I am doing with some of my favorite fellow bloggers here is my second entry.
If you want to know more, your can check it out here:
Show Me Your Favorite Christmas Decoration
Show Me Series
So far this Christmas Break has been great. Some of my favorite parts don't necessarily have pictures as they are the moments that we spent just being together and enjoying spending time with each other. Here are a few that I do have pictures of:
This is the second year in choir for Princess. This image of her singing in the choir was actual in focus, but I don't like to put kid pictures online so I blurred it a little bit. The part of this that I really liked was that when Princess first started choir I had to sit with her, then she would come back to sit with us between songs. She is confident enough now that she has no problem sitting with the choir.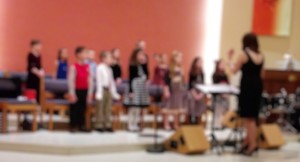 The big thing this year is that Princess – my struggling reader – did a reading for the Pre-Christmas Eve Mass at church. We practiced several times and she had it mostly memorized, but she stood up in front of everyone and did it! I am super proud of her.
Bug usually gets help with the larger Lego sets. However, while I was taking my Christmas Day nap, he built his Lego Coast Guard Plane all by himself.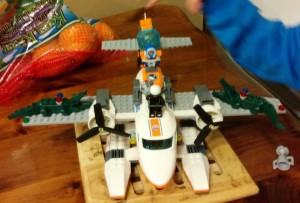 We had a visitor arrive on Christmas Day. She wandered up to my honey while he was out putting his new LED lights into his car. We took a walk through the neighborhood, but could not find her home. We gave her a bit of milk and took her in for the night. On Friday morning we took her to the vet as she was sick when we found her. She had a bit of a cold and was underweight, but otherwise she is in pretty good health. We believe we have found her a good home (one of the ladies at the vet's office). She did ask if we could keep her for the weekend as she was going to have company for the weekend. This gave the kids an opportunity to get to play with her a bit longer. While we would love to keep her, I have pretty good allergies to kitties. We have kept her sequestered in a bathroom but I still have had a cough, itchy, watery eyes and I'm very stuffy. It's a bummer, because I love kitties as do the kids, but we are hoping to get an outdoor kitty at some point.
What is your favorite Christmas Break moment?