There were a number of thoughts that I had for the title of this post.  One was "Do you date your children?", another was "A Date with a Younger Man", and of course, "My husband doesn't mind if I date, does yours?"
But I decided that some of those titles could be taken badly, so I decided to go with this one –

When hearing that phrase some people will understand what I mean, while others will think – What is dating your children?  Does that mean remembering their birthdays?  Or perhaps it means putting a note on the baby's diaper to remind you when it was last changed.  Do kids come with "good until" dates?
While that last one might be neat to have, dating your children is actually quite simple.  Here is a recipe to follow:
Take 1 Child
Add 1 Parent
Go Somewhere Together
Repeat often
Yup – that's pretty much it.  Recently, while talking to my sister, I told her I was out on a Mommy / Bug Date.  She said that her oldest daughter asks to do that, but she wasn't sure when to find the time.  After I told her what we were doing for our date – she was amazed.
Is it because I am this super awesome mom who takes her kids to super expensive places for fun, or buys them super expensive toys?  Nope, not me.  It was because our date was quite simple.
You see I had errands to run – I asked Bug if he wanted to come with me, he said yes.  Very easy!
We started off by going to Dunkin Donuts (it was on the way to my first place, and it was a nice little treat for both of us.)  To make it extra special we skipped the drive through and went inside where I let him pick out his own treat (Bug decided on a Coffee Cake Muffin).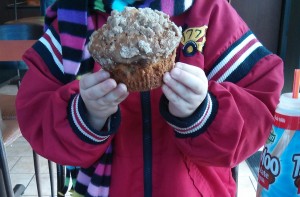 Then I let him pick a table where we could sit.  He picked one by the door so we could see people and cars going by.  As we sat there, him with his muffin and chocolate milk, me with my doughnut and chocolate milk, we talked.  Nothing life shattering, just chatting.  At one point after I had finished eating he asked when it was time to go, I told him when he was done we could go.  It struck me that as the youngest he tends to dawdle sometimes or eat a bit slower so most times when we are out he is being told – "Finish up, it's time to go."  This time he was quite happy that we were there until he was done.  While he still didn't finish his muffin, when he was full he announced that he was ready to go.  We wrapped the muffin in a napkin and put it in a bag for later and headed out the door.
From Dunkin we headed over to the dollar store where I needed to pick up a few supplies for a homeschool science class that I teach.  Bug asked if he could push the buggy, so I let him, we also walked down the toy aisle and looked at the cars.  Bug asked if I needed to teach my science kids anything about firetrucks as there was a fire truck set that he particularly liked.  I told him that while I wasn't teaching about fire trucks to my science class, he could use it at Girl Scouts to help me when I talked to the girls about Emergency Workers.
As we were leaving the dollar store Bug remembered what I had told him on the way in about Gentlemen holding the door for ladies, so on the way out he held the door for me.  He then asked me what happened if a gentleman was too small to hold the door the whole time, so I explained that it was OK for a Mommy to help a young man who was still practicing being a gentleman.
Next stop –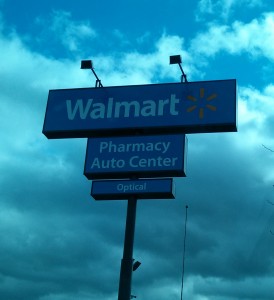 Walmart – for groceries and a few other things.  While we were there Bug helped to push the buggy, put things in the cart and we even took a few minutes and stopped by to ride one of the bikes through the camping section.  We then finished shopping and while we were in line checking out I told him he could pick out one thing to bring home to share with his brother and sister.
After our excursion to Wal-mart we headed off to the Post Office.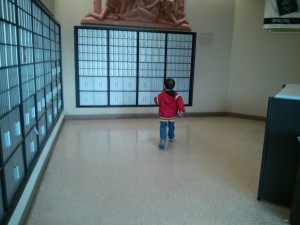 Where Bug not only got to open the Post Office Box, but we also stopped by the counter and he was given a lollipop.
So let's see – so far on our date, we did some school shopping, grocery shopping and checked the mail.  Does that sound exciting?  Well, if you are 4 and you are alone just you and Mommy – it is exciting.  And you know what else, I thoroughly enjoyed myself as well.  It's harder to try to make sure everyone is doing what they are supposed to when everyone is with you, a little one on one time is quite a nice change of pace occasionally.
In the end, I spent less than $10 for our date (and that includes my donut and milk), and we had a great day together.  When we were driving home, Bug said he wanted to do more dates with me which, of course, just makes my Mommy heart smile.
Do you date your children?  Do you want to?  What is a simple date that you could do with your kids?
And one last mention – the whole time we were driving around –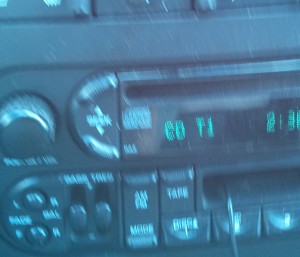 We were listening to Hamster Dance – it is one of Bug's favorite CDs.
The bottom line is this – it doesn't have to be long, it doesn't have to be expensive, it doesn't have to be daily – but if you took one day a month and did something just one on one, be it a trip to Dunkin Donuts or a walk in the park – it will be a day that you both remember.
Have fun!