Ok, first off I have to apologize for my excessive use of punctuation.  If that is offensive to anyone, I am heartily sorry.  However, once you have gotten over the punctuation go back and read that again – it's less than 12 weeks until the HEAV convention!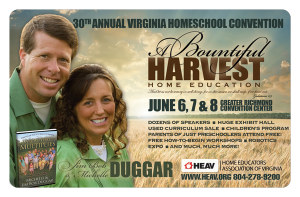 Now do you understand why I had to use all of that punctuation.
Ok – so starting, ummmm, well, not now . . . tomorrow? . . . maybe – ok – sometime this week I will begin out Countdown to Convention and in honor of it being HEAV's 30th year, I am going to plan to do 30 posts about convention!  These posts will be filled with words, hopefully properly spelled words.  🙂
Anyway – Just to give you a little taste of what is to come:
And Many More . . .
Plus – I am working on a giveaway – it if works out, it will be a good one!!!  Stay tuned!
PS – As this is a convention post and as I already stated that I was going to have 30 get ready for convention posts AND since I told you about some of the speakers . . .
This one counts!
30 years —- > 30 Posts