So who likes free stuff?  Wait, wait, I am short, I can't see over all of these hands.
Let's try this again – who doesn't like free stuff?  Oh, yes, much better.  I can still see.
April 1st is the beginning of Bounty of Blessings 30 Days of Giveaways when HEAV will be giving away all sorts of great things for the 30 days of April!  Keep an eye on the following sites for information about the giveaways and to sign up to win!
Need something to tide you over while you are waiting??  Of course you do – how about if I do a giveaway?
Bonus Giveaway from Homeschooler on the Edge
Send me your convention tips – you get one entry for sending me tips (one entry/person).  Feel free to send as many tips as you want (although you still only get one entry/person).  I will compile them all into a post to share with everyone.
Don't have any tips to share?  That's ok – send a question about convention.  Each person who sends at least one question receives one entry.  Each person that sends lots of questions receives one entry.
So just to clarify – if you leave a comment with tips or questions – you will get an entry into the drawing.  I know it sounds like I am beating a dead horse here, but the is my first giveaway so I want to do it right!
The winner will be choose on April 1st – The first day of the Bounty of Blessings 30 Days of Giveaways.  Be sure to include your email so that I can contact you.  If you don't hear back from you in 3 days, another name with be drawn.
Bug will be the one who draws the name from a hat (basket, bowl, or whatever else I find to put a list of names in) and I am sure he would like me to mention that he really likes Thomas trains so if you happened to send a train for me to attach to your name . . . (just kidding – he can't read yet, so there will be No cheating!)
Se let's get those comments, tips and questions flowing!!  Yes – I know you don't know what you are going to win – do you want to?
How does a Full Family Registration for the 30th Annual Virginia Homeschool Convention sound?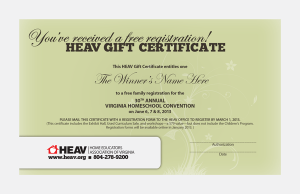 This includes All Exhibit Hall and Used Curriculum Sale shopping plus tickets to a Duggar keynote session.  Depending on if you are an HEAV Member or not this could be a $59, $69 or $79 value!  So – let's hear those tips and questions!!