Princess made her First Reconciliation last Thursday.  For those who don't know, this was the first time she went to confession in our Catholic church.  We have been working towards this since last September.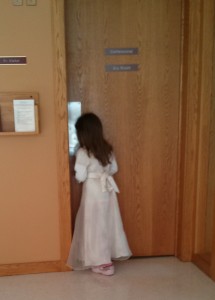 A little background on Princess –
Princess turned 8 last December.  She is Kindergarten, 1st grade, and second grade depending on who is asking and for what reason.  At our co-op Princess is in 1st grade because those are the classes that had music and movement and Princess loves to sing and dance.  At home she is working on Kindergarten reading because we were having issues with reading (more on that in another post).  At church class and girl scouts Princess is in 2nd grade, that is because that is where she fits for age and ability (except for the reading).
Anyway – Princess is also shy.  Princess is very shy.  Princess is super duper, ultra mega great googly moogly shy.  Upon hearing that she had to go to confession, BY HERSELF, there was panic.  It was at the beginning of church class when we found this out, so I explained to her that it was only September, and that she wouldn't have to go for a long time and when it was time to go, she would be ready.
Because Princess isn't reading a lot yet and because she didn't want to go to class by herself, we decided that I would go with her.  I am there to help her with the reading parts, and I also help the teacher, whenever she needs help.  Princess's teacher, Mrs. Boyles is an amazing lady, she talks to the children about God and saints, tells them stories, and, mostly importantly, teaches them how to pray and prays for them.
This year Princess has learned –
The Sign of the Cross
Our Father
Hail Mary
Glory Be
The Guardian Angel Prayer
The Act of Contrition
Whenever the kids in class are able to recite a prayer they earn a flower petal to be pinned on the bulletin board around their center.  The center is a circle with their name on it, so by the end of the year, as the kids learn more and more prayers they add more and more petals.  This means that they become surrounded by the prayers they have learned.  What a great image.  (Mrs. Boyles is a wonderful teacher.)
Princess has also learned about being thankful.  Mrs. Boyles has the children write things they are thankful for in their books at the beginning of each class.  At first, the kids did great, but then they started to repeat themselves.  In order to help them find more things to be thankful for, we had an excursion.  Each child received an empty bottle, we then took a walk around the parking lot of the church.  We walked around the parking lot 4 times.  After two or three times some of the kids were starting to wonder when we were going to be done.  Here's the catch – the children were going to get water for their families, they were "walking to the river" – after four trips around the parking lot we arrived at the river.  We all came inside and Mrs. Boyles handed out bottled water to the children, they were to each take what they could carry (generally two or four bottles) – THEN we had to walk "back home".  Mrs. Boyles had explained to the children that in other places you can't just turn on the faucet and get water, you had to work for it.  The return trip with the water was understandable slower than the initial trip.  Some of the children discovered they couldn't carry all of the water all the way back.  All of them realized how thankful they were that they didn't have to go to the river to get water for their families.
Skip forward to this past Thursday.  It is time for Princess to make her first confession.  Over the year, Mrs. Boyles (and myself) had made sure that she learned and understood her prayers, knew what to do and even made sure that she had thought about why she was going to confession.  After all, at 8 years old, there isn't a lot that Princess has done bad, but we are imperfect people, born into an imperfect world of sin.
Princess decided that she had to take a shower, wash her hair and put on a pretty white dress for her first confession.  She said she wanted to be clean on the outside when she went to get clean on the inside so she would be clean all over.  I helped her that day with her hair and tying the bow on her dress.  The night before we practiced so she knew what to say to Father Marty.
The thing that makes me smile is that when she went into confession, a little nervous, she went all by herself.  When she came out, she had the biggest smile on her face and both her and Father Marty gave me two thumbs up.  Reading is something that we will get to, it is something that we will figure out eventually, but I am not worried, because we are taking care of the important things first.  Without being able to read all of the words of the prayers, Princess memorized them all and now she will always have them with her.  I really enjoyed being able to go with Princess on this journey.  It was great to see her smile as she realized she knew the prayers.  It was wonderful laying down with her at night to listen to her as she would sing the prayers.  Congratulations Sweet Girl!  You did great!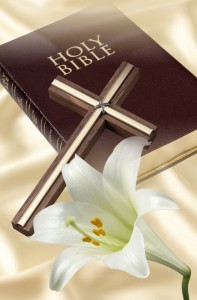 What experiences have you had this year with your kids?  I would love to hear about them.