The Return of the Return Address Label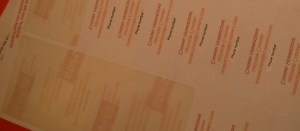 So you are going to convention!  (Notice I didn't say you are thinking about going, you are wondering if you should go, you might be going – I just said you are going – consider this permission to go)
Anyway – now you have to start preparing – over the course of the next few days, weeks, hours (depending on how many minutes I can squeeze together at one time) I am going to be posting tips.  For those loyal readers who have been here all along, you will recognize quite a few things from the TCTGYRFC newsletter.  I "borrowed" (sometimes word for word) quite liberally from them.  But it's OK – it's my newsletter as the President, CEO, CFO, ROYGBIV, and Supreme Overall Queen of TCTGYRFC – I can do that!
(on a side note – for those who haven't figured out the acronym – TCTGYRFC == The Committee To Get You Ready For Convention)
Return Address Labels and what to do with them
#1 – Use return address labels to save you time when filling out door prize entries.  To do this, you will want to print return address labels with your name, your homeschool name (if you want), your address, your phone number and your email address.  This way you can use these labels to place onto the little door prize entries at all (or most) of the tables.  This will save you over 3 hours in the vendor hall.  Want to see the math?  Check out my post: Filling out Door Prize Tickets.
#2 – Use return address labels to put your name in your homeschool books that you lend out.  The plus side here is two fold – One the person who borrowed your book knows that it is yours and can get it back to you and B if and when you go to sell the book you can take a blank return address label and cover over the one with your name one it.
#3 – Well, you know you can use these on your letters and such, right?
Anyway – stay tuned – next time we will talk about . . .
Wait for it . . .
Almost . . .
3 RING BINDERS!!!  Woo hoo!!
Have you ever used return address labels for convention?  Have you ever used them for anything else?  I would love to hear from you.
mcrooker – Homeschooler on the Edge