Be sure to stay tuned until the end for an awesome giveaway from HEAV!

Did you know that the HEAV convention is just under 4 weeks away?  For those of you who are always prepared and ready for anything, I am sure that you not only knew that, but that you also are already prepared and ready to go.  For the rest of us – here is a quick look at planning for convention.  Over the next few weeks, I plan (note the word — plan) to post more in depth prep for each week.
4 weeks out –
3 weeks out –
Continue to enter books into the UCS site.
Planning – this week I want you to

Make a list of the items you want to get from the UCS, on this list make notes of the full price or any sale prices that you can get.  By doing this, you will know if you are getting a good deal in the UCS.

Decide on a budget.  Pray about it, talk with your spouse or a good friend, look at your finances and decide what you can afford to spend. Be sure to plan for extra expenses for those things you see that you just can't leave without!
2 weeks out –
Make sure all of your reservations are in place — hotel, car, travel, etc.
Begin to organize your things. If you have room create a "staging area" where you place the things that will be coming with you. In this area you should start placing the following:

Books for the UCS
Rolly cart, suitcase with wheels, forklift, etc.

Finish up your books for the UCS – be sure to watch the UCS site for deadlines.
1 Week out –
Printouts – start printing everything you need –

Return Address Labels
Exhibit Hall Layout
Speaker Handouts
Convention Schedule
Now, if you have lasted this long, you deserve to get a treat. Or at least a chance for a treat.  As some of you know, and the rest of you are about to find out, I am a blogger for HEAV.  Quite honestly it was quite easy to jump into this roll as I love HEAV and would be bragging about the convention anyway!  However, because I am an HEAV blogger, HEAV has given me a One Family Registration to the HEAV Conference to give away!!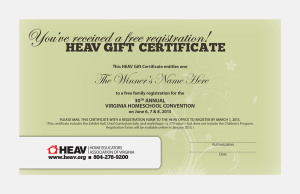 What do you need to do in order to win?  Well, each day that I post I will have a link to the rafflecopter entry form.  All you have to do is go there and follow the instructions.  Be sure to watch for posts all week and try to win a family registration!  (You can still enter even if you have already registered.  If you win, you will receive a refund!)