For those who haven't read my earlier posts, Princess is my 7 (almost 8) year old little girl.  She is a girly girl who loves to dress up in pretty dresses, brush her hair and change clothes 4 times a day.  Princess is also a lover of animals.  ALL ANIMALS!  Big, small, medium, furry, fuzzy, slimy, slippery – it really doesn't matter.  If you have doubts be sure to read about her pets Daisy and Honey – her Madagascar Hissing Cockroaches.   Anyway – for Christmas this year I had originally decided to get Princess a Vet Play Set, then I started looking at them.
There were Barbie ones, there were ones with animals, there were Dora ones, there were ones that had a cart that you could haul the animals around on.  So many choices, so many different reasons that I didn't like one or the other.  The Barbie one was cute and pink – Princess would love it, her Daddy however would not love it when he saw Monkey playing with the pink vet supplies.  The ones that came with animals were usually focused on that specific animal, besides Princess has plenty of animals to keep herself in business.  The cart was way to big.  So after looking for a bit, I found some great ideas on Pinterest.  From there I found these awesome sites :
Most of these sites refer to setting up a play center, I didn't want to set up a center for multiple reasons.
I wanted Princess to be able to make her own vet office and setup her space as she wanted it.
I wanted her to be able to "travel" to help animals (such as to Monkey's room to help his animals, or to the barn or Auntie's house to help the animals living out there.)
We just don't have the space to have a dedicated play center area.
Using images from several great websites, plus some of my own ideas, I put together my own list of supplies that I thought Princess would need and want.  To keep myself straight I put a list of the items into an Excel spreadsheet, that way I could make notes on my to do list of what I still needed.  I also had the other kits on there – the Science Kit, the Detective Kit, the Cooking Kit and the Teacher Kit.
Supplies
Quite a few I purchased from the dollar store and this was a very cost effective way to go.  Others I made myself and a few I splurged on – Here is what's in our Vet Set –
Dr. Bag – Ok – this was one of the splurges.  At one point I had a simple Men's Travel Toiletry Kit and that probably would have worked just fine.  But this just looked SO much like a real doctor's bag.  I found it in the cosemetic section at Wal-mart.  Splurging meant spending $20 for the bag, however you can always make your own, get a basket from the dollar store or look at the thrift store.  I would have gone the thrift store route if I had more time to put this together.  Since I came up with the idea at the beginning of December and wanted to give it to Princess for Christmas . . . well, you get the idea.
Bandages (dollar store)
Face Mask (dollar store)
Dog Brush (or a soft baby brush – dollar store)
Gauze (dollar store)
Stethoscope (this was my other splurge item – I got it from Wal-mart in the pharmacy section for around $8 — it is a real stethoscope.  I know that she won't hear anything when listening to her animals, but I figure that she will try it out on herself, her brothers, parents, etc – how cool is it to have a REAL stethoscope!)
x – ray images from http://www.animalsicons.com/x-ray-photography-animals-as-art/
This one I had more trouble with.  I wanted the x-rays to look neat, but I also didn't want to spend a fortune in ink printing them out.  I originally decided to go with the white crayon on black construction paper.  I used x – ray images from Animal Icons as well as a Google search on animal x-rays.
As the time got closer to Christmas I decided to skip the x-rays for now.  Depending on what kind of time you have, you can check out the links above.
For those of you our there that are more visual – here are the contents of Princess's Vet Bag.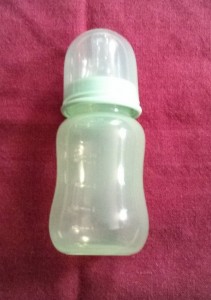 Baby Bottle – for feeding sick or orphaned animals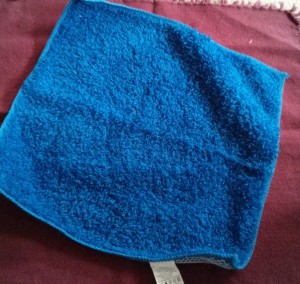 Small Blanket – everyone needs a snuggle when you don't feel good.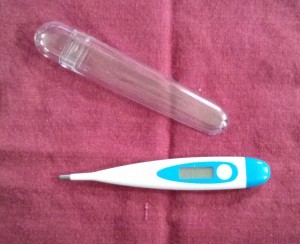 Thermometer – I picked this up at the dollar store so it is a real working thermometer that turns on and beeps when it is done.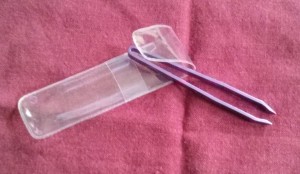 Tweezers – splinters, ticks, you name it, these can grab it.  These were also from the dollar store and came with a nifty little rubber/plastic case.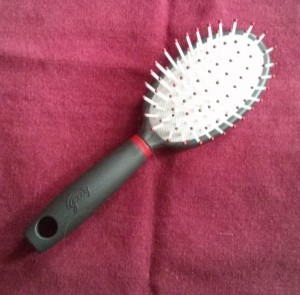 Pet Brush – This actually came from the people brush section of Target (I think it was $2), but all of the actual pet brushes I looked at either cost too much or were very stiff, which is great for real pets, but not so good for stuffed pets whose fur doesn't grow back.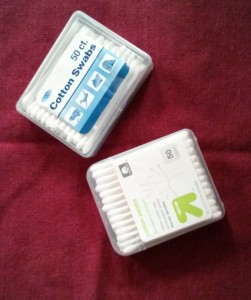 Cotton Swabs – These can be used for swabbing throats, ears, wounds, etc.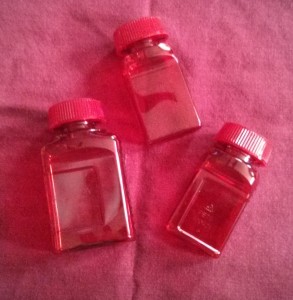 Medicine Bottles – The awesome pharmacist gave these to me after I explained what I wanted them for.  You can fill them, but we chose to keep them empty.  The reasoning is two fold – 1. These are real medicine bottles and I want to make sure there is definitely no confusion. and 2. I don't want liquid or pretend pills all over my floor.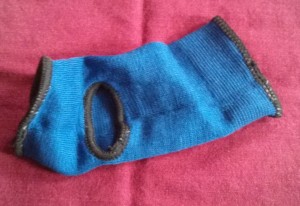 Full Body Cast – This is actually an ankle brace, however put it on an stuffed puppy or kitten  and it becomes a full body cast complete with a whole for the tail.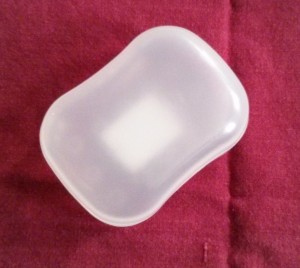 Cotton Ball Holder – You may notice there are no cotton balls in this.  Ummmm – yeah, I forgot to put them in.  Oops – this is a travel soap holder from Target.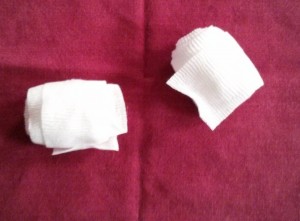 Bandages – What vet kit would be complete without bandages.  I picked up gauze bandages as well as ACE bandages at the dollar store.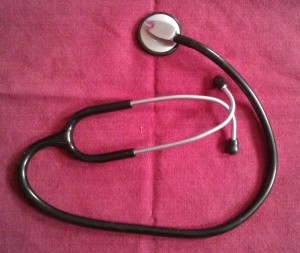 Stethoscope – As I mentioned above, this was my splurge.  It was around $8 at Wal-mart, but it is a real working Stethoscope.  How cool is that?  Princess and Monkey have both thought it was cool to listen to their own hearts and mine, of course.
So that is Princess's Vet that she got this year for Christmas.  So far Princess has healed dogs, cats, rabbits, lizards and dinosaurs.  All total (including the $20) bag, I spent about $40.  If you pick a different bag, or find one at a thrift store you can definitely put a kit together for under $20.  (Under $10 if you don't have the real stethoscope.)
If you make a vet kit, I would love to see it.  Feel free to send pictures.  Let me know if you mind if I post them on here.
Coming soon
– the Teacher Kit, the Science Kit, and the Detective Kit (see a theme, I had fun putting these together for Christmas).