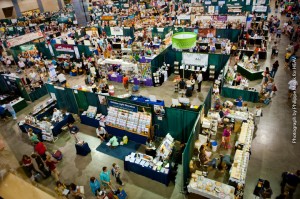 Hello and welcome to the HEAV Exhibitor Interview Series.  This is a five part series (as I talked to five different exhibitors) and I hope to present one every few days or so.  The vendors I spoke with all attended the CHAP (Christian Homeschool Association of Pennsylvania) convention during the second weekend in May.  They are also going to be attending the HEAV convention during the second weekend in June.
To learn more about the HEAV convention or to register you can go directly to their website.
Today and over the next few convention posts we are going to focus on exhibitors.  What are exhibitors?  Who are exhibitors?  Which exhibitors will be at HEAV?
Well, the last question is the easiest to answer.  To find out which exhibitors will be at HEAV simply check out the Exhibit Hall Link on the HEAV Convention page.
To meet a few of the vendors more personally – keep reading.
Today we are going to talk about travel.  And our featured exhibitor today is:
A number of years ago I met Michele Zavatsky at the HEAV Convention.  Michele, together with her husband George have written 14 State Guides and 2 Interstate Guides.  Kids Love Travel also carries Carol Marsh mysteries (Real Kids in Real Places) as well as State Activity books, Travel Games and Invisible Ink Books.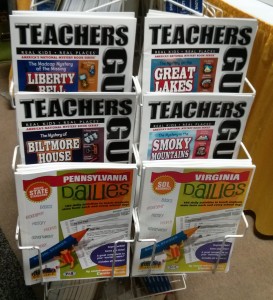 So what is the difference between checking out a Kids Love Travel State Guide vs. looking online or picking up any old guide book.  The difference is huge!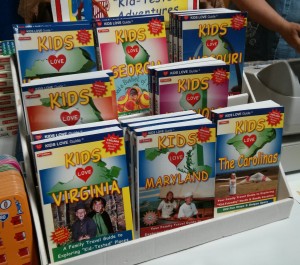 The mission statement of Kids Love Travel is to help families "create family memories".  According to Michele, "Sometimes, the most special memories a family can have are those that have been created when taking the family "out of its daily routine". When we were children we were blessed to travel to many states with our parents and still talk about the trips like it "was just yesterday". We have "lived" each book with our kids, write about the best "kid-friendly" places, and remove the frustration that comes from planning a trip that will create special family travel memories.  When you purchase one of our guides, many of our readers (now more than 200,000) tell us that they feel as if they have a personal guide with them! Thanks…that was our goal!"
Located in Columbus, Ohio, Kids Love Travel has been in business for over 16 years and have sold over 200,000 guide books.  While I have learned quite a bit about Kids Love Travel from hearing them speak at convention and reading the books; I learned even more during my email interview with Michele.
Did you homeschool your children?  How long have you been attending homeschool conventions?   Our books have been called "Field Trip Bibles" by many homeschoolers. We homeschooled our own kids for years while traveling to research sites for our books. We display our books at all large, state-wide homeschool conventions for each state.  Most happen in the spring and early summer each year.
What do you hope people will gain if they come by your booth at the HEAV convention in June?   They are great resources to plan educational, fun day and week trips by travel theme (use our popular Activity Index). More importantly, not only can you find my insider tips (where to find freebies, what to wear, what to ask for additionally at the admission desk, where to find downloadable curriculum) in print on most every page of a book, but I'm there to answer those personal questions you've been dying to ask an expert who understands family budgeting and homeschooling in one breath!
I see on your website that you are now providing eBooks.  This is great as they will be very portable.  Can you tell me which of your books are available in the ebook format as well as if there is a recommended ereader or one that have tested well for your books?  ebooks are available for every book in print, except KIDS LOVE INDIANA (but a little birdie says a new version is out soon!). The books are epdf format on our website. If you have an apple product, GoodReader apps work best to read pdfs. Otherwise, many of our books are now on Amazon as print and ebooks. Kindle offers free apps to format the book on any platform.
Have you traveled to all of the places in your books?   Well, we've been to 5000 places (and counting)! With 500 listings in each book, it's close (14 books in the state-by-state series). We have pretty much visited every museum, historical site, lodging or dining, and many outdoor exploring venues. Just not able to hit every state park or festival in the land. Wish we could!
Do you have any new books in the works?   Hum…not sure where wind takes us but looks like something with the word "New" in it!
Do you ever need or want people to send in ideas about places to visit?  We get updates from readers all the time.
So far I have the Kids Love Virginia, the Kids Love Florida and the Kids Love Pennsylvania books.  Regular readers of my blog will know that when we decided to move to Pennsylvania I wasn't the most excited person in the world.  After all, having been born, raised and lived all of my life so far in VA this was a major change for me.  One thing that helped was Kids Love Travel.
Yes, I know it doesn't say – Kids Love Moving – but here is how it helped.  At the HEAV convention I went to see Michele at the Kids Love Travel booth.  I told her that we were going to be moving to PA sometime soon and asked her if they had any books about PA.  They of course have a wonderful book – Kids Love Pennsylvania.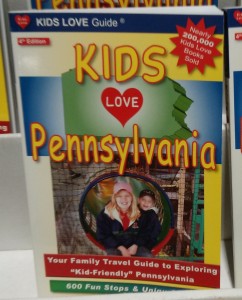 I purchased this book, and then went back home and shared it with all of my friends and family.  I had each person look through the book and pick out places that they would want to visit when they came to see us.  Now, not only do I have a book that has given us lots of tips and new places to visit, but whenever I look in my book I see the notes from my friends back in VA.
Think you know everything about Virginia?  Want to know of more fun places to go and things to see.  Do you want to win a "Kids Love Virginia" book?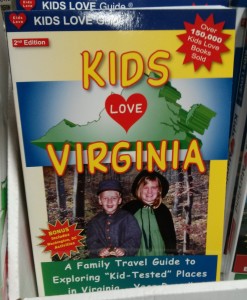 Michele and Kids Love Travel will be at the HEAV Annual Convention you can win a FREE Kids Love Virginia Book.  Enter to win here – once the winner is chosen they will receive a certificate to present to Michele at the Kids Love Travel booth at the HEAV convention.  You do need to be able to pick up the book @ the HEAV convention.
Thanks to Kids Love Travel for the giveaway!  If you want to find Kids Love Travel – they are all over the web —
Giveaway!  Giveaway!  Giveaway!  Giveaway!  Giveaway!  Giveaway!  Giveaway!
Giveaway!  Giveaway!  Giveaway!  Giveaway!  Giveaway!  Giveaway!  Giveaway!