This one was hard for me as I love to organize. The problem though is I have lots of organizational supplies and tools so it's hard to pick just one. Of course, saying that I have lots of organizational supplies, doesn't mean that I am always organized – far from it in fact, but I do try.
One thing I do enjoy is tote bags –
31 Bags – I have to say, these are so much fun and there are so many options. I use one of the bigger totes for trips to and from co-op and I have a snowman print utility tote that we use for when we travel for Christmas.
My friend Becky sells 31 bags (if you need a consultant you can find her at her thirty-one site) and I have gotten quite a few from her. I have also received some as gifts. One of my organizational tools is to have a bag for each activity. Here is an example:
Bug's church class (Got this bag @ a convention)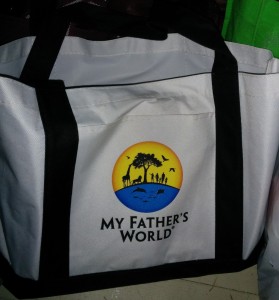 Six Hands Boy Scouts (picked this one up for myself at the Boy Scout shop)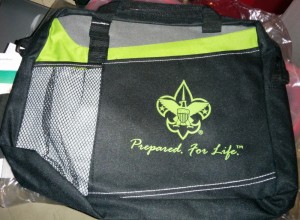 Princess's Girl Scouts (picked this one at up at the Girl Scout shop)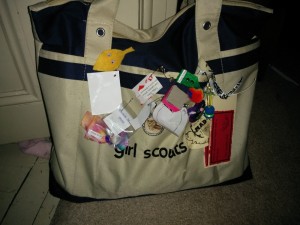 Bug's Cub Scouts (Bug made this during his first or second meeting – you can't see it, but it is decorated on the other side, but it has his name on it so this is the back – trust me, it's cute!)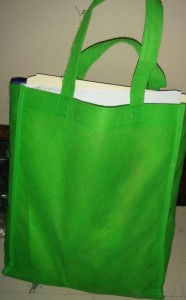 Co-op Classes (purchased from my friend Becky)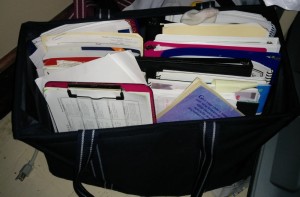 Bible Study (gift from my sister)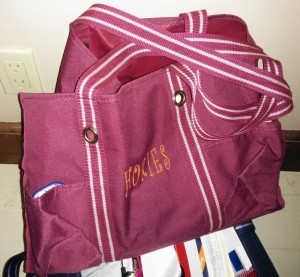 General Running around (had for a long time now)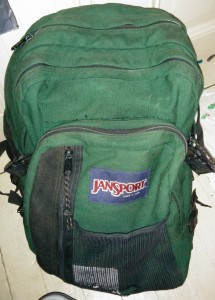 And of course my blogger bag (take a guess as to where I got this one)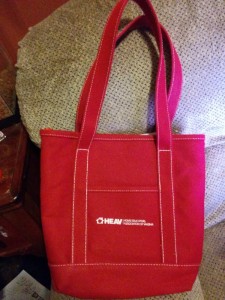 And my Silent Auction Bag (If you want to donate to HEAV's 2nd annual Silent auction you can do so online.) This was my original blogger bag, but I needed a bigger bag for the silent auction stuff.  🙂 Oh, and I also purchased this from my friend Becky.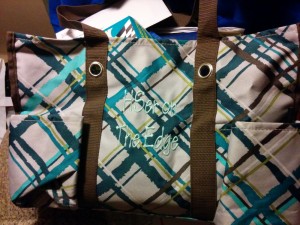 I also like to keep things in binders with labels on the ends so I can tell them apart. I like to use binders rather than folders as I feel like I can access my items better in a binder.
How do you organize your stuff? Do you have a different bag for different things? Do you know of new organizational items that I can look for?