If you ask most kids this questions, they will respond with a resounding yes and while I am not advocating putting the kids in front of a screen 18 hours a day, there are times when it is helpful for mom and dad and when the games or videos are educational, so much the better.
Think about it this way – we want our kids to learn science because it helps them understand about the world around them, but sometimes science can be messy, and sometimes it is hard or impossible to demonstrate a certain principle.  After all, do you really want your kids to jump off of the roof to learn about gravity?  I'm going to say – no!
History is amazing, there have been a number of truly extraordinary things that have happened before you or I were around, however sometimes just reading about it in a book doesn't do it justice. You get the idea. Learning should be fun, but you want their games to be somewhat educational at times.
The problem comes in though, how do you know which games are ok unless you play them yourself or get recommendations from someone.  That is where I come in – Here is a list of fun and entertaining and (gasp) educational games and apps.  I'll even note which ones I enjoy playing if you want to give them a try. During this post I am going to focus on android apps rather than computer programs – if you are looking for good computer games check out Cool Math and Reading Eggs.  Cool Math is free and has lots of great puzzle and logic games as well as online math lessons. Reading Eggs is not free, but they have a trial version that you can check out and it has worked really well for Princess and Bug. I am sure there are a number of educational games for the iOS, but as we don't have an iPad, iPod or iPhone, I don't know those games. As far as other games we like to play – I'll get to that hopefully sooner rather than later, but for now check out these fun and educational apps.
Hill Climb Racing by Fingersoft –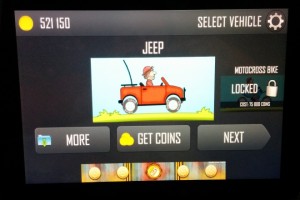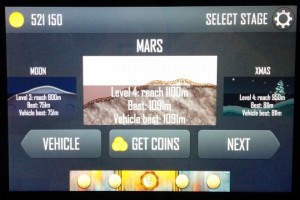 While this game doesn't follow all of the rules of physics it does follow some of them. For example, when you are driving on the moon, your little guy doesn't need a spacesuit, however there is a lot less gravity so he will float in the air after a big jump. This is a fun games for kids and adults.  Bug, in particular, loves this game. We play it for fun, but it has really helped with math as well.  You earn coins in order to purchase new levels and new vehicles so I will ask Bug how much more he needs in order to get the next item he wants, plus he has to decide which item he wants so he is learning a bit about budgeting.  It's not super in depth as far as that goes, but he is six and knows that if you have 400,000 coins and want to purchase a vehicle that costs a million he needs 600,000 more.
TriviaCrack by Etermax
Test your knowledge and challenge your friends.  Another homeschool mom introduced me to this one and it really is a lot of fun. Basically it's like trivial pursuit, but you can play with friends no matter where they live. Reading is required as is some basic knowledge so it's geared towards the older kids, but even if you get the answer wrong, the only thing that happens is that it is the other person's turn.  I am getting SixHands to install this on his device so that we can play together. The trivia questions cover science, history, entertainment, sports and geography. Once you answer three correctly or spin and land on a crown, you can pick a category and play for that piece, collect all of the pieces and you win.  This is good for general knowledge. I haven't been playing long, but I have yet to see any offensive questions. Oh, and if you need someone to play with my username on there is "@millmtnzoo.va".
Cut the Rope by Zeptolab
You start off this game with a package being left on your front door. Inside is a little critter named Om Nom who likes to eat candy. Your mission is to feed Om Nom. The trick is that the candy is never just in a bowl that you put on the floor for him. The candy may be suspended by ropes, or bouncing on a trampoline or about to be eaten by spiders, so using physics and puzzle solving skills you have to get the candy to Om Nom. While the kids do play this, I admit it, this is one of my games as well.  There are several variations of this game including Cut the Rope 2, Cut the Rope: Time Travel (where Om Nom gets to meet various characters from history) and Cut the Rope: Experiments. These are all made by Zeptolab.
Eggy 100 by Blake eLearning Pty Ltd (Reading Eggs Sight Words)
Eggy 100 is for phones, Eggy 100HD is for tablets. This is a good game on its own or as an accompaniment to Reading Eggs or another early reading program.  This game teaches 100 sight words that kids should know by using a Fruit Ninja type interface. The kids are given a word, then eggs and various other things are tossed into the air and they have to recognize the word and swipe or tap it.  I tried it on the fast version (which is recommended for ages 6 and up) and it was a little fast for me, but I did pretty well.  This is a game that I use for Bug and Princess.  It is a little young for Princess in appearance and style, but it helps with her reading so we use that.  One of these days I want to write a series of books for struggling readers that aren't board books and contain real information, but are simply written at a level they can read.
Eggy Alphabet by Blake eLearning Pty Ltd
Also by the company that does Reading Eggs this is a game that teaches the alphabet. Kids can learn both uppercase and lowercase letters. Princess is fine with her alphabet, but Bug still misses one or two occasionally so this is a good game for him.
DrawSomething by OMGPOP
Have you ever played Pictionary? This is pretty much like that. Kids and their friends can take turns drawing pictures that the other person has to guess.  One of the great things that we like about this game is that Bug gets to play with Grandmommy. Grandmommy lives about 6 hours away so we don't see her super often, this allows him just one more way to keep in touch with her. Granted he really likes the drawing part and doesn't always like to draw what the word is, so it really is more like unscramble and try to guess the word game for Grandmommy, but it's still fun.
Scribblenauts Remix by Warner Bros. International Enterprise
So, you have this little guy named Maxwell and he needs help to solve problems and puzzles.  In order to help him you can create things just by typing them in. So if you type the word castle, a castle will appear, if you type boat a boat will appear if you type tiny airplane an adorable little airplane shows up. The great thing about this game is that the kids can try to spell the word and if it isn't right, then they will be shown a list of suggestions that they can pick from. For the younger set, they can say the item by using the microphone option – not only does this mean they have to know what word to say in order to help, but it helps with speech issues as they have to say the word properly.  One issue I had is that the last time I played on one level you have to create creatures and build an evolutionary type of ladder – as we have a creation point of view, I took that as an opportunity to explain to the kids about how some people believe other things, but here is what we believe. So – still a learning experience.
A few other apps you may want to check out are
Any apps by Intellijoy – they have reading, math, letter recognition, etc.
Spaghetti Marshmallows by Emil Segeras – structures built with spaghetti and marshmallows – all the fun without the mess
Physics Cheater by ujj-laptop – various physics equations, good resource
Living Physics by Living Physics – physics / chemistry puzzle game
Angry Birds by Rovio Entertainment Ltd. – crazy physics based game in which birds attack pigs who stole the birds eggs – there are quite a few versions of this
Pipe Tycoon Free by zinine – connect the start to the finish using various shapes of pipe before the water starts to flow and makes a mess
Magic Jigsaw Puzzles by Banda Games – the reason it says magic is because you can build puzzles on your device, there are quite a few puzzles and you can choose the number of pieces so the younger ones can play too.
Minecraft – Pocket Edition by Mojang – similar to the computer / Xbox version, but a little more limited
Ninja Math: Starter Edition by Thinking Garden – make your ninja run and jump to the correct answer
Where's my Water? By Disney – puzzle solving game in which you have to get clean water to a poor little croc who is stuck in the sewer.
As always, be sure to check what your kids are playing to make sure it is right for your family. There are some games that my kids' friends play that I don't agree with as I am sure there are some things that my kids play that others will not agree with. If you have educational games that you like, please feel free to share them here.
mcrooker – Homeschooler on the Edge.