It's been a bit cold this winter here in PA.  I am used to VA winters, which while they get cold, occasionally have warm days and the snow melts in between snow storms. Here in PA it's considered warm when it is in the 20's, that is because we can spend weeks at a time in the single digits. However, we (SixHands and I) did find something that we can actually do outside in the cold and we both like it.
With SixHands' Boy Scout Troop we visited Beer Creek Resort and went snow tubing!
Check out this cure for Cabin Fever – lots of sunshine, a brisk wind in your face and racing downhill at super sonic speeds. (ok, maybe not that fast, but it was still very cool)
Here is a view from the top looking down – You had an option of getting a slow tube (with a more rubbery bottom) or a fast tube (with a solid bottom). I picked a fast tube!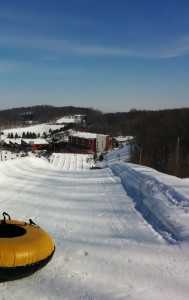 Here is a cool progression of shots – Watch the left hand lane, at first you don't see anything, but trust me SixHands is at the top, then you will see the little black dot getting closer and closer –