There are a number of options for indoor field trip. You can go to the museum, go to the library, visit a grocery store and see foods from different countries.  The trick in the winter though is finding a field trip that allows kids to exercise and burn off some of that energy that they would normally be able to expend playing outside.
Check out our Boy Scouts at SkyZone – It's an indoor trampoline jumping facility. They have basketball, dodge ball and one area that is covered in trampolines, including along the walls.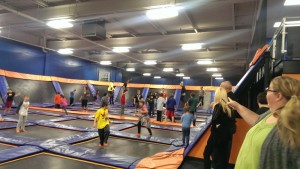 I have more pictures, but I also have Bible Study today so I wanted to at least get this picture in for now.
See you again next week when I "show you" our cure for cabin fever.