Have you heard about the great new Buy It Here program at the HEAV convention this year? I was so excited when I heard about this, not only does it help out the vendors (which after all make convention pretty great), but it is a way that we can possibly win $100.  Here are all the details, plus the answer to some questions that I had. If you have any questions, let me know and I'll see if I can get the answers to those as well!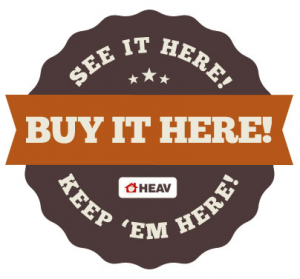 This year, every time you spend $25 at the convention, bring your receipt to one of the receipt redemption stations in the convention center to be validated, and you'll be entered in a drawing for a $100 cash prize! There will be a winner each day of convention. More information will be found in your convention program.
Support the Exhibitors
The exhibitors–many of them homeschooling families themselves–come to the convention at great expense and are available to talk, answer questions, and share their resources and experience–but they can only continue to come if we support them with our shopping dollars. The new "Buy-It-Here" program is a fun and encouraging way to remember to support our exhibitors whenever possible by purchasing onsite when you can–and don't forget to enter the "Buy-It-Here" drawing each day!
Frequently Asked Questions (technically, these are questions I asked, but I asked a few different people, so that does count for frequently asked?)
Do you need to be present to win?

No, you do not need to be present to win.

Will there be a drawing on Thursday, Friday and Saturday or just Friday and Saturday?

There will be a drawing on Thursday and Friday at 8 p.m.and at 5 p.m. on Saturday.

How do people find out if they win?

The winner will be called on the cell phone number they provide on the ticket. We will also post the winners on Facebook and Twitter.

How do people get their prize?

We are thinking if they are not present at the drawing, they will be able to pick it up at the information desk until closing on Saturday, after that it will be mailed to the winners.