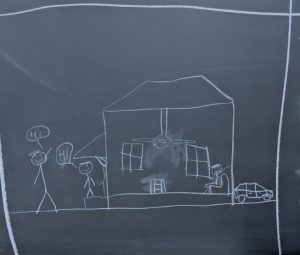 I haven't posted for a while because, well, life happened. Anyway, I figured I would start back with one of those ultra-popular "What kind of (fill in the blank) are you?" I know what you are thinking, "Wow, how did she know that I was just wondering what kind of homeschooler I am?", and now you are thinking, "Ok, that was creepy, she can read minds." But I digress.
So, the first thing to establish is simple. Are you a homeschooler? If you can answer yes to any of the following questions, then Yes, you are a homeschooler.
Do you have kids?
Have you ever taught them anything? (Anything means, anything from Reading to math, to walking and talking.)
Ok – so now that we have established who the homeschoolers are, let's find out what kind of homeschooler you are.
After a quick google search, I found a list of "types" of homeschoolers. They are as follows:
School at Home
Relaxed Homeschooling
Unschooling
Classical
Charlotte Mason
Waldorf
Montessori
Multiple Intelligences
I have to say that I had to look up some of those to find out what some of them meant. Some I figured out, such as "school at home" it's, well school at home, you have a set schedule, you, as the teacher, teach to the student(s) certain subjects as specified times. Relaxed Homeschooling are similar, except that some people view unschooling as uber relaxed homeschooling.  Classical, Charlotte Mason, Waldorf and Montessori are all types of schedule/curriculum. These vary from how they are scheduled and what is being taught, but in general it gives you (as the parent) guidance on what to teach when. Finally multiple intelligences (one of the ones I had to look up), could also be called Learning Style Homeschooling as it teaches to each child based on the way they learn.
So – do any of those sound like you? Are you more than one? Do you have no idea where you fit into that list?
Here's the thing – it doesn't matter. Yup, I'll say that again, it doesn't matter which "kind" of homeschooler you are. Sometimes people get caught up in the labels and trying to figure out what they are supposed to be doing. My goal is to be the kind of homeschooler who teaches their kids to love learning, to enjoy life, to be kind, to be loving. My goal is not to be perfect – that's never going to happen – but my goal is to try my best. And when (when, not if) I miss the mark,  then my goal is to try again.
So what kind of homeschooler are you? You are an imperfect homeschooler, created by a perfect God who gave you these children. You are going to have major triumphs, you are going to have some epic fails, and in the midst of it all, your children will be learning. What kind of a homeschooler are you? You are the best teacher for your kids kind of homeschooler.
And you are amazing at it!

As I mentioned at the beginning, it's been a while since I posted anything and at some point I may even write about all of that. But for now, I am planning for the upcoming HEAV Convention, because I am also the kind of homeschooler that LOVES the HEAV convention. Why? Because it is amazing! I love sending hours (or days) in the exhibit hall, I love love love the Used Curriculum Sale, I love seeing people that I only see once a year at the convention, and I love all of the amazing volunteers that make it possible year after year.

If you have never been then treat yourself this year and plan to attend. In fact, you could attend for free. There are several ways to do that and one of them is by entering my drawing for a free family pass for convention! If you have already paid for convention, then you will get a refund if you win.