February 19, 2013 – 8pm – 11pm
Be there or miss out on all the good information and giveaways!!!  The party starts at Diana Waring presents
Coming a bit late?  Need to leave and come back?  Check out the whole schedule on the HEAV Facebook Bounty of Blessings Facebook Party page.
I went to this last year – and when I say I went, I mean I sat in my pjs on the sofa with a drink and a snack and my computer!
It's a great way to find out lots of information, hear about things you may not hear about ordinarily, and have the opportunity to win great stuff.
And if you haven't marked your calendars for convention yet – be sure to do so – Convention is just a few short months away!  Registration starts soon, but you can start checking it out and getting excited.  I'll be posting Convention tips and tricks over the next couple of months to help you get ready.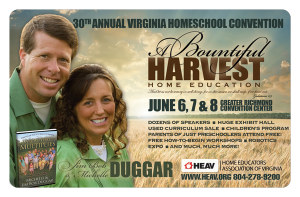 Need a few tips to get you going . . .
Tip #1 – come check out the Facebook Party – the HEAV Facebook Events page has the whole schedule!
Tip #2 – Start collecting books that you aren't using and want to sell.
When I start collecting books early on, the books that I sell more than cover my convention registration, and go a long way to replenishing my homeschool budget!  You don't even have to price them yet, just grab a box and stick it in a corner, whenever you come across a book you aren't using, haven't used for a while and don't plan to plan to use in the next year – toss it in!
See you at the HEAV Facebook Party!!
To learn more about the groups participating, go to the HEAV blog giveaway page.