Hello all – just a quick note to let you know that my friend Carol over at Lessons from the Homestead did a great interview with Joel Salatin today.
Joel Salatin is going to be a speaker at the 30th Annual HEAV Convention in Richmond this June 6th, 7th and 8th.  Carol is also offering a Free HEAV Family Registration for those who post and as questions about homeschooling on the homestead.  You can read the interview and comment for the giveaway at Carol's post — Interview w/ Joel Salatin and HEAV Giveaway.
You can also go on over to the HEAV page to check out Joel Salatin's workshops or to the Registration page to register for the convention.  Registration is now open for all!!! You must be logged in to register, but you should have recieved your username and password in an email from HEAV.  If you didn't (or if it was sent to your spam filter and you accidentally deleted it) you can use the recovery link to retrieve it.  🙂
Early preregistration is $59/member
Regular Preregistration is $79/non-member
AND if that's not enough (I sound like the late night shopping network — And that's not all folks . . . )
HEAV's Bounty of Blessings is going on right now too!
30 Years!
30 Giveaways!
30 Days in April!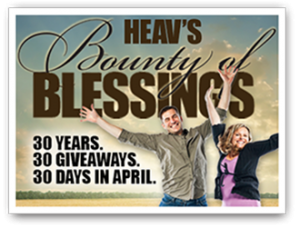 Have a great day!
mcrooker – Homeschooler on the Edge