The HEAV Convention boasts over 350 booths bringing you the very best in educational materials from around the country.
Are you looking for curriculum, unit studies or textbooks?  How about DVDs or CDs?  Are computer games more what you are looking for?  Or do you want to find art supplies, language programs, information on homemaking skills or college information?
In the end – it doesn't matter – the HEAV Exhibit Hall has it all!  From 5 p.m. to 9 p.m. on Thursday June 6th, 9:30 a.m. – 8 p.m. on Friday June 7th and 9:30 a.m. to 6:30 p.m. on Saturday June 8th the Exhibit Hall will be open, ready and waiting.
Today we will be hearing from a Newbie on the Homeschool Convention Scene!  In business for just under a year . . .

Now, please allow me to introduce to you to Vicky Enright of words 2 remember 4 kids!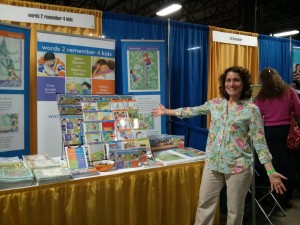 Where are you located? I am located in another beautiful part of the country, north of Boston called Andover, MA.
How did you get started?  I have been a children's book illustrator for many years; my industry really started to slow down, and a good friend recommended that I create some sort of Bible flashcards for kids.  I started working on a few, found a woman who has more Bible expertise than me, (Kristen Smith, who has a Masters of Divinity) and with lots of prayer we are moving forward.
How long have you been in business?  We started a little under a year ago.  The idea came from a hope to create cards that would help children apply Bible verses to the situations they were presently going through; for example: friendship issues, overwhelmed with school work or sports, or any sort of pressures.  We want children to look carefully at the pictures, relate to the kids in the pictures, and perhaps talk about how they can enjoy and cope with their lives with the help of the word of God. 
Tell me about your family.  I have two children, both boys- Sean 15, and Nicky, 12 who have not been home schooled.  I do work on trusting and relying on God, and trying to be as good an example as my humanly self can be in any given day (and it's not always easy for me) as a mother in today's culture.
How long have you been attending homeschool conventions?  I have only attended three homeschool conventions, as of yet, but I am already blessed by meeting so many interesting and kindly Christian families!  I love hearing people's stories about their life, and especially how God leads them through successfully (even in difficult circumstances.)  Also, it is inspiring to see parents taking on the homeschooling responsibility, when just being a parent can be so challenging.
What do you hope people will gain when they come by your booth at the HEAV convention in June?  My hope is that children and their parents will receive joy from the illustrations and reminders plus inspiration from the verses and discussion starters, in these cards.  In addition, I hope we can exchange a tip, a story or just a laugh about the pleasures and pitfalls of parenting children.
The pictures on the cards are beautifully done.  Can you tell me some of the children's books you have illustrated?   I have illustrated "Read Anything Good Lately", by Jane Lindaman and Susan Allen (and others from these authors), Crafts from Your Favorite Children's Songs, by Kathy Ross (and many others from Kathy Ross) and It's a Beautiful Day, by Jeanne Haddon, to name some of my books.  Some will be available at my booth.
Do you have a suggested lesson plan or suggestions for ways to use the cards?  As to ways to use these cards:  Leave them out, talk with your children about them, point them out if a particular situation comes up, like a sibling fight where forgiveness is needed, take them apart, post them to a refrigerator, or place a relevant one on a bedside table, a kitchen table, or a bathroom mirror.  Throw them in the car.  They can be used for memorizing, reminding, comforting, or encouragement from the word of God.
Do you have any plans to create more cards?  We are planning on creating more sets:  "Words of Courage and Comfort", a middle school age set, a set for toddlers…we will see where the Lord leads us.  This first set is more for the ages of 3-11.  
What do you hope that kids (and parents) learn from using these Bible Quotes Memory Cards?  I hope that children and parents use these words more, in their everyday lives.  We can hear God's word in church, memorize those words on Wednesday nights, and forget to USE them, the rest of the week.  We hope these are reminders to know that God is with us in every situation and wants us to bless, forgive, and help others when we can; as he does with all of us.
What other conventions or shows will you be attending this year?  I may go to the NJ homeschool convention; I've been to the PA and MA conventions.  These cards are helpful to all kinds of families, so I will be working on getting them into more Christian retail stores, and perhaps as supplements to church Sunday school programs.  We are praying and working on where God is leading us.
Bible Learning Cards – Product Review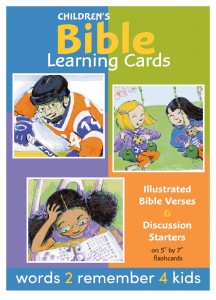 DISCLAIMER : AS A THANK YOU FOR WRITING THIS POST VICKY ENRIGHT OF WORDS 2 REMEMBER 4 KIDS GAVE ME A SET OF HER BIBLE LEARNING CARDS TO CHECK OUT AND TRY WITH MY KIDS.  The cards were free, but the opinions expressed within are my own.
The other morning I was at my Bible Study.  I had brought my Bible Study cards with me as most of the moms in my bible study are also homeschool moms and I wanted to get their opinions as well.
The first reaction I got as I held up these cards was "Wow, those are beautiful" – as an illustrator Vicky has done a beautiful job on the artwork.  Then, as I passed the cards around, the excitement grew. These cards are not only lovely to look a but, even more important, the message that they share is wonderful.
Some of the moms had their kids there (after all – we homeschool – where else are the kids going to be) – so I called them in and told them about the cards, then I asked them to go and look at them and come back and tell me what they thought.
Just as the ladies and I were getting started the kids came back into the room.  I have to say – this was a great way to start bible study.  As they brought the cards back to me, they each read the scripture verse and told me why they picked that one.  Plus, each of the kids hadn't picked just one card, they had picked several that they liked.  It really was a beautiful experience.  I am going to share a few with you here –
One of the girls told me this was her favorite because sometime her and her sister don't get along well.
Another one told me she really liked this one because it reminded her that God is always there.
Here are a few more examples — I just love the artwork – it is very expressive and that was one of the things that Princess noticed.  She has always been a fan of color.  🙂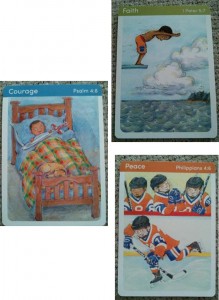 Coming in a pack of 20 these cards are great for leaving around for kids to find, sticking into a book for them to come across or putting them on a ring and keeping them handy for any situations.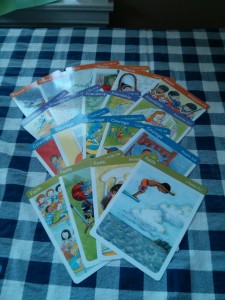 So now that you have seen these lovely cards online, I know you will want to see them in person.  Well, guess who is going to be at the HEAV convention – Vicky Enright, of course!  Watch for Vicky and words 2 remember 4 kids in the exhibit hall.  You can see her and the list of all of the exhibitors at the Exhibit Hall Page on the HEAV Convention webpages
I want to thank Vicky Enright for her time in answering these questions.  Be sure to look for Vicky and her smiling face in the HEAV Exhibit Hall.  You can also find more about Vicky and her Bible Quote Memory cards at her website and their facebook page.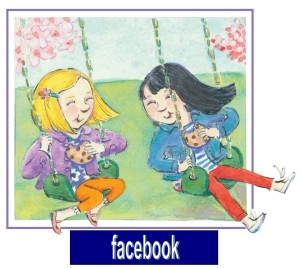 Oh and one last thing . . .

I asked Vicky if she would like to provide a giveaway for someone to pick up from the HEAV convention.  Here is the awesome response that I got from her.
"I would be happy to do a giveaway of two boxes…one for the winner's family, and one for a friend's family.  I think it would be great for the winner to give the second box to a special family who maybe can't buy one themselves, or whose family could really use them. (maybe a family that struggles in their faith?)  Or, they could just give the second box of cards to their best friend's family."
How great is that!  Thanks so much Vicky!
So without further ado, click below to access the rafflecopter giveaway.  Remember you need to be able to come and pick up your prize from Vicky's booth at the HEAV convention in June.  Not registered – sign up and win for a friend who is coming.