Congratulations to Briana Eibest who won two boxes of Children's Bible Learning Cards from words 2 remember 4 kids – one for her family and one to share!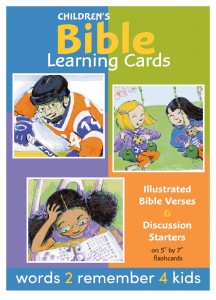 Didn't win?  That's ok – stop by to see words 2 remember 4 kids at the HEAV convention and pick your own box of Bible Learning Cards.
Be sure to tell Vicky Homeschooler on the Edge said Hi!
Looking for ways to use the Bible Learning Cards?  Well – y'all submitted lots of great ideas – here are just a few of them!
Dinner discussion topics

Devotions for after school care kids
Little reminder for short attentions spans
Leave them in a special place for kids to "find"
Reinforce positive behavior
Place a new one on the fridge every few days
for yourself
Character building
Weekly scripture learning
Bring them out whenever the situation requires a gentle reminder
Thanks for the giveaway words 2 remember 4 kids!