So we have arrived in Texas, but we were so busy yesterday that I didn't have a chance to post the rest of the tips we learned from yesterday air travel.  After all, upon arrival we got to see Grandma and Granddad, travel back to their house and they have a POOL!
So to catch up –
Airplane Travel Tip #2 – Establish an order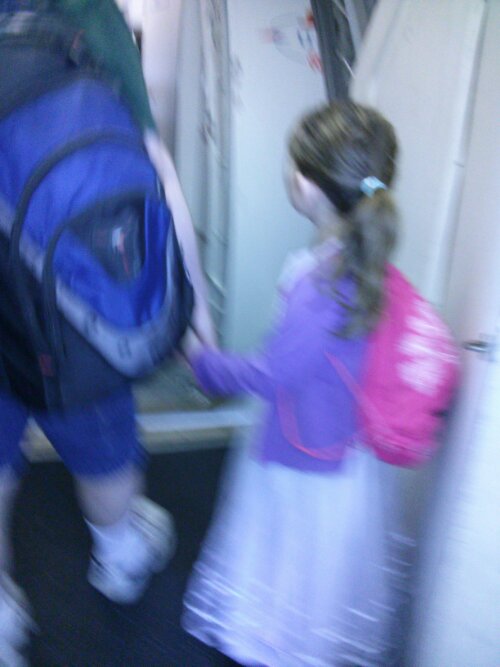 Before getting on the plane we established an order – that was everyone knew how to get onto the plane and we (hubby and I) knew where the kids all were.
Here is our order – yours of course may be different:
Hubby –> Princess –> The Oldest –> Bug –> Me
This may not be necessary for some, but it helped me to make sure everyone was where they were supposed to be.  Princess gets a little nervous sometimes, so she is close enough to grab daddy's hand when needed.  The Oldest was in the middle that way he could help keep an eye on Princess and Bug if necessary.  Finally Bug and I brought up the rear.  Bug could walk in front of me – following The Oldest, but if he needed to he could get a hand too.
Airplane Travel Tip #3 – Bring a new toy for each child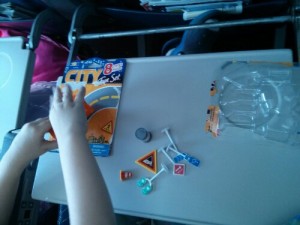 These don't have to be expensive toys.  In fact, it is probably better if they are not, as there is always going to be the chance of losing them on the plane.  We hit the dollar store – Princess found a new doll, Bug found a little mixer with road signs and The Oldest picked out a deck of cards.
Airplane Travel Tip #4 – Electronics are ok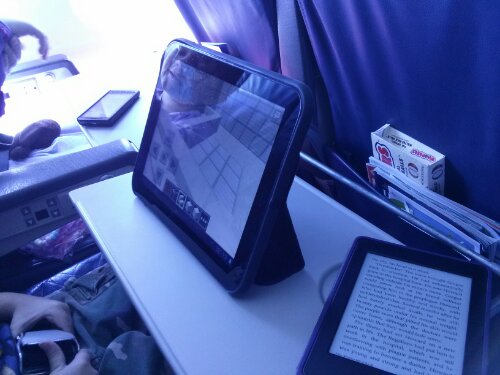 Before leaving home, we made sure to charge various electronics to bring on our trip.  The children learned quite quickly to figure out if the "electronics" sign was on or off.  I'm not saying that you should plop the kids in front of electronics constantly or even for the whole plane ride, however occasionally they can come in handy.
Airplane Travel Tip #5 – Take a walk
I don't have a picture for this one as I was trying to hold a child's hand, walk down the aisle and not fall down, so I didn't have an extra hand for the camera.  Bug started this by saying he had to go potty.  By the way – I highly recommend visiting the lavatory.  Yes, I know this sounds crazy, but how can you say that you got to go potty at 36,000 feet.  After Bug got to go Princess decided that she had to go, until she realized that if she gave up her window seat it would be Bug's turn at the window.  During out 3 1/2 hour trip we all got to walk up and down the aisle – some more than others as I took each of the little ones on their trip to the potty.  However, the point here is that you get to get out of your seat and wiggle for a few minutes and that is always good.
Airplane Travel Tip #6 – Use the call button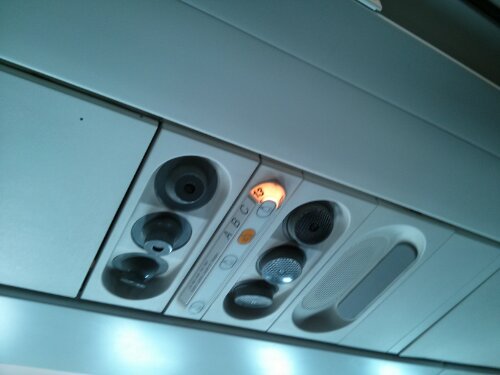 At one point we had a chat about the buttons on the ceiling.  As the kids played with their toys it was daytime and nighttime a lot so I had to turn their lights on and off.  Plus they liked opening and closing the window shade.  When they saw the button that looked like a person with a drink Bug immediately decided that was the button that you used if you were thirsty.  Luckily the kids were too short to push the buttons themselves, but I was asked more than once to push the call button.  Here's the thing, I didn't want to disturb the flight attendants every time Bug wanted something so I told him that we really didn't need to push the button.  I knew he was thirsty so we asked for an extra juice during one of our bathroom trips.  We did use the call button when his ears started hurting.  A flight attendant came over and he showed bug how to hold his nose and blow, plus he got him a drink to help him out.  You don't want to push the button every time the kids ask, but using it to help them out – not a problem, plus the fun of having someone come over and check on you helps to entertain the kiddos too.
Airplane Travel Tip #7 – the baggage carousel is pretty cool – you can do laps while waiting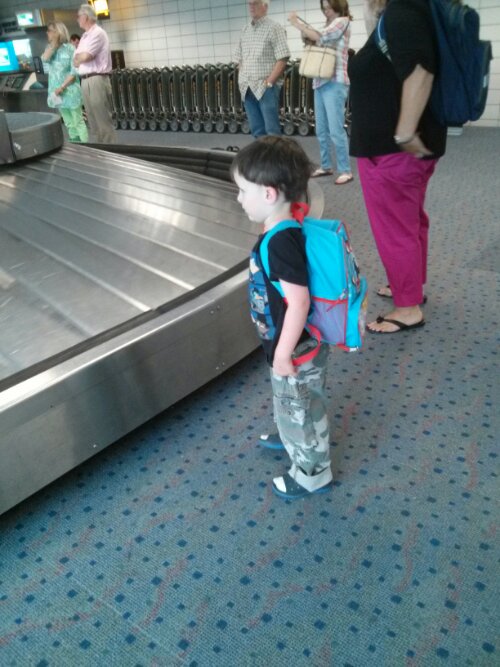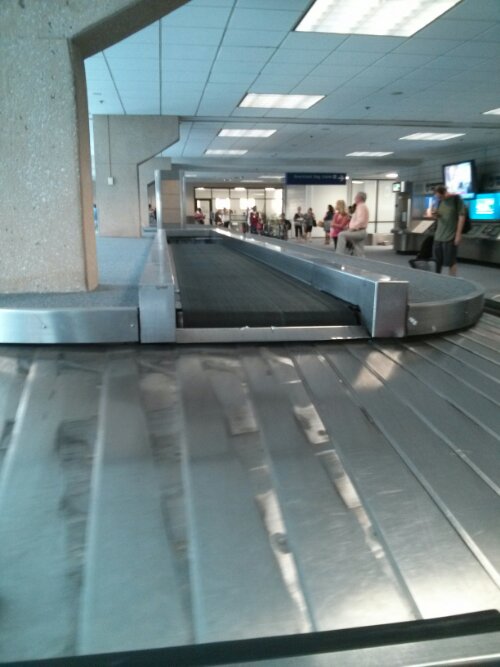 After we got off the plane (in our order) we found our way to the baggage area where Grandma and Granddad were waiting.  After a happy reunion Bug wanted to know how we were going to get our bags.  Bug, Princess and I walked over to check out the baggage carousel.  We stood watching for a little bit, but whenever it seemed to be taking too long we took a walk around the carousel.  This helped to stretch little legs and as a distraction to keep from getting tired of waiting.
When the bags finally started coming out – it was like Christmas.  The kids were so excited.  Bug's car seat came out first – he was so happy to see it – "Look, Look – it's my seat".  Our other two bags came out shortly after – Princess was happy that she was able to help spot them so everyone got to play.
This weekend we are planning to go to a rodeo, see a movie and I am not sure what else.  So far this has been a great trip – As we have more adventures I will share them on here as well as more travel tips – for traveling with kids.
If you happen to live in the Dallas area – or an hour or so North of Dallas – and have field trip ideas, feel free to let me know.  We'll be here all week!
Talk to you soon
mcrooker – homeschoolerontheedge