My friend Kyndra over at Sticks, Stones & Chicken Bones has started posting her weekly plan at the beginning of the week and then she posts how she did the following week along with her new schedule.  She has invited anyone who wishes to join her to do so – so I am!
If you want to read how to get started – check it out at in Kyndra's post titled The Weekly Plan.
So – here is my plan for the week – we will see how is goes as I plan to post the result on Sunday along with my new plan.  Here's hoping —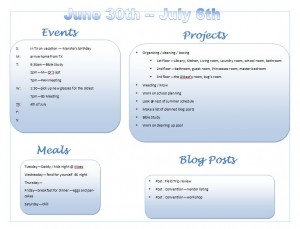 What do you have planned for this week?  Are you willing to share how you do?